May 19, 2021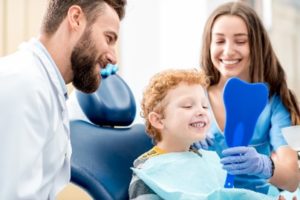 Your child's pediatric dentist in Dix Hills is your trusted source for issues relating to their dental health. You feel confident in the decisions you're making for their teeth and gums because you have the guidance of a dentist who specializes in the health and development of young smiles. Did you know there weren't always pediatric dentists? Here's how it became a specialized form of dentistry to nurture growing smiles.
When Did Pediatric Dentistry Emerge?
Historians have found evidence of past civilizations having an interest in dentistry. There are texts dating to 500 B.C., which mention treatments for decayed or diseased oral tissues. Over the centuries, dental care has transformed significantly. One of the changes along the way was the foundation for pediatric dentistry.
In 1913, an American dentist opened the first oral hygiene school in the world, which sent women to local educational facilities to clean children's teeth. This opened the door to the development of pediatric dentistry. During this same time, a dentist in Los Angeles, CA opened a dental practice just for children.
It wasn't until the 1940s the American Dental Association recognized pediatric dentistry as a specialty. With their support, there was about a 50% increase in children visiting a dentist after just 1-year. The success led to The Pediatric Dentistry Training Program to increase the number of dentists capable of treating children.
By the late 1990s, the Secretary of Health and Human Services announced in a national report the connection between a child's oral health and general health. This allowed for more comprehensive coverage for children, including infants.
What is a Pediatric Dentist?
A pediatric dentist is a professional who has dedicated their training and career to providing oral health services for infants through their teen years. Although your child will lose their primary teeth, they still have unique requirements as their adult teeth erupt. Without dental care, children can have possible oral decay or diseases that can cause lifelong complications.
To treat the specific issues relating to children's oral health needs, a pediatric dentist must complete 4 years of dental school and 2 additional years of training in a residency program catering to infants, children, and teens. They provide a scope of dentistry that includes many services, including:
Cleanings and checkups
Preventive treatments
Habit counseling
Early orthodontic assessment
Diagnosis of oral conditions
Management of diseases
Care for dental emergencies
Benefit from the Best
You can rest assured your child's pediatric dentist in Huntington has the training and qualifications you can rely on. They'll provide comfortable, compassionate care to promote their oral health and development. With the right dentist by their side, they'll achieve a healthy smile that lasts.
About Dr. Shubha Soni-Gaur
Dr. Soni is a board-certified pediatric dentist. After earning her dental degree, she completed her pediatric dental residency at the New York Presbyterian Hospital/Columbia University. She is passionate about children's dental care and strives to meet their exact needs. If you need a qualified pediatric dentist you can trust, contact our office today to schedule an appointment.
Comments Off on Discover the History of Pediatric Dentistry
No Comments
No comments yet.
RSS feed for comments on this post.
Sorry, the comment form is closed at this time.