Dix Hills Dental Implants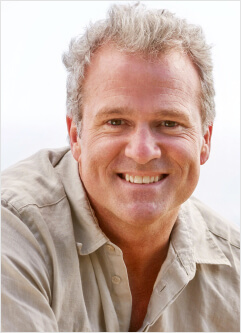 If you need to replace one or more teeth, Dr. Raj Gaur offers versatile restoration with dental implants. In addition to providing patients with a permanent solution for missing teeth, dental implants are also superior to traditional options, like bridges because no additional changes to existing teeth are necessary and they produce more lifelike results.
What is the Treatment Process for Dental Implants?
A full implant procedure is completed in two phases over the course of a few months. In the first stage of care, Dr. Gaur or one of his trusted specialists will place one or more titanium implant fixtures in the jaw. If you're replacing just one tooth, you will only need to have one implant placed, but if you're replacing more than one tooth, you will need multiple implants. In both cases, the placement procedure typically takes one appointment.
How long does healing take?
During a special healing period, about three to six months, your implant(s) and jawbone will fuse together the way the root of your tooth naturally bonds with bone. This process is known as osseointegration. The relationship between the implants and your jaw also serves to encourage your jawbone to continue to build healthy new bone cells. This is important because it helps you avoid bone degeneration, which can often cause a change in your facial appearance.
What can I eat after implant surgery?
For the first few days, you'll need to stick to a diet of soft and nutritious foods. And be sure to drink plenty of water. As healing progresses, you'll be able to gradually return to your normal diet. Dr. Gaur will instruct you on how to care for your implants while you are healing.
How is the dental implant process completed?
Once the osseointegration process is complete, an abutment (an implant "post") is placed on your implant(s) to connect the new dental prosthetic. When your crown, partial, or full denture is ready, you'll return to our office to have it placed, and your procedure completed.
How long to dental implants last?
If cared for properly with regular brushing and flossing at home and scheduled dental checkups with Dr. Gaur, dental implants can last for many years. Some people enjoy their dental implants for the rest of their lives.
Are Dental Implants Right for Me?
Dental implants aren't right for every patient. To find out if you're a candidate, call Dix Hills Family Dentistryto schedule a visit with us. During your appointment, Dr. Gaur will complete a full oral exam. Based on your results, you'll make plans for dental implant treatment, or Dr. Gaur will recommend an alternative solution. Even without implants you can achieve a fuller, healthier smile at Dix Hills Family Dentistry. We serve patients of all ages in and around Huntington Station.