Dental Implants — Dix Hills, NY
The Gold Standard of Tooth Replacement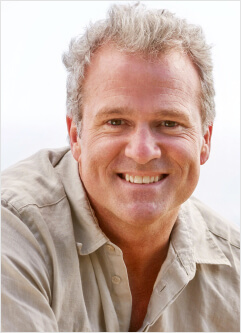 If you need to replace one or more teeth, Dr. Raj Gaur offers versatile restoration with dental implants. In addition to providing patients with a permanent solution for missing teeth, dental implants offer a bevy of important benefits for your health and everyday life that other options simply can't provide. That's why dental implants are widely seen as the gold standard for tooth replacement. If you're interested in this potentially life-changing dental treatment, give us a call today to schedule your consultation!
Why Choose Dix Hills Family Dentistry For Dental Implants?
Entire Dental Implant Treatment Completed Under 1 Roof
Advanced Dental Technology for Precise Results
Various Options for Making Dental Implants Affordable
What Are Dental Implants?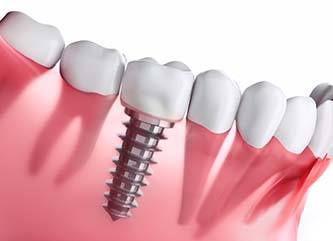 Dental implants are small titanium posts that can be placed under the gumline into the jawbone to mimic tooth roots. These posts can be used to securely support restorations like crowns, bridges, and dentures and give them lifelike stability and functionality. This is much different than traditional options like dentures and bridges that only replace the visible portion of missing teeth. Since dental implant restorations are anchored securely in place, you never have to worry about their security or strength, and you can count on them to last for many years to come. Dental implants can give you a smile that looks, feels, and functions just like natural.
The 4-Step Dental Implant Process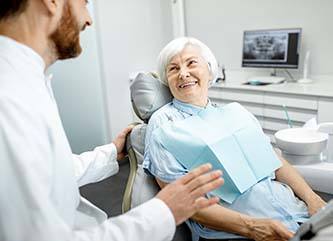 Unlike dentures and dental bridges, getting dental implants requires a multi-step process that will take several months. This may seem like a long time, but when you consider all the long-term benefits, you will understand why they are worth it. While every treatment is unique, here are the four main steps that you can expect during the process of restoring your smile with dental implants.
Initial Dental Implant Consultation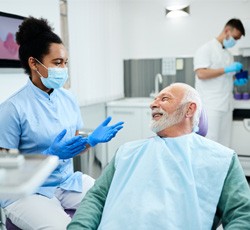 The first step when it comes to restoring your smile is your initial consultation. During this time, we will take a look at your mouth and surrounding facial structures. This will help us to determine whether dental implants are ideal for you and where and how they should be placed in the mouth. Some patients need to have preliminary procedures completed before getting dental implants, like bone grafting, gum disease treatment, and tooth extractions. After this, we can move forward to planning the rest of your treatment. During your consultation, we are also happy to walk you through the process so you know exactly what you can expect – including the timeline and cost.
Dental Implant Surgery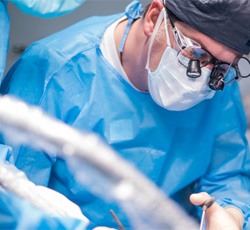 Dental implant placement surgery is relatively straightforward. After we numb your mouth with a local anesthetic, a small incision is made into the gum tissue to access your jawbone. The implants will then be placed at precise locations and angles. Lastly, your gums will be closed, and protective caps will be placed over the dental implant posts to keep them safe during the healing process.
Dental Implant Osseointegration & Abutment Placement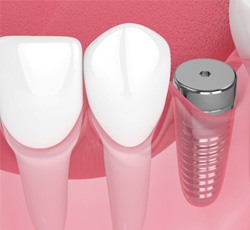 Over the next 3 to 6 months, the fusion process will take place between the implant and jawbone. This process is called "osseointegration." This allows for your implant to stay firmly in place. Once this process has been completed, we can place a metal abutment on the end of your implant.
Delivery of Dental Implant Restorations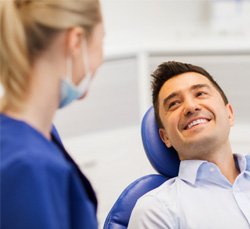 A few weeks after your abutment has been placed, your restoration should be ready. You can return to our office where you will receive your new crown, bridge, or denture (depending on the number of teeth that are being replaced). At this point, we will make sure that your bite is comfortable, and you will be sent on your way to enjoy the benefits of your new and improved smile!
Benefits of Dental Implants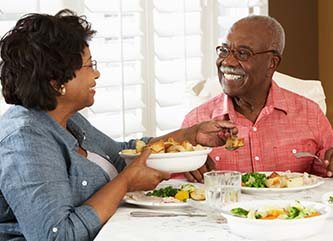 Strong and reliable
Looks and feels like natural teeth
Have the potential to last a lifetime
Easy to care for
Stable and will never feel loose
Who Dental Implants Can Help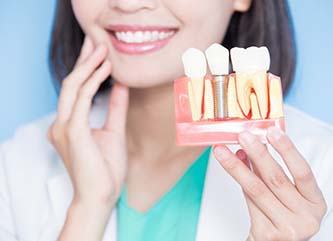 Dental implants aren't right for every patient. To find out if you're a candidate, call Dix Hills Family Dentistry to schedule a visit with us. During your appointment, Dr. Gaur will complete a full oral exam. Based on your results, you'll make plans for dental implant treatment, or Dr. Gaur will recommend an alternative solution. Even without implants you can achieve a fuller, healthier smile at Dix Hills Family Dentistry. We serve patients of all ages in and around Huntington Station.