Dix Hills Restorative Dentistry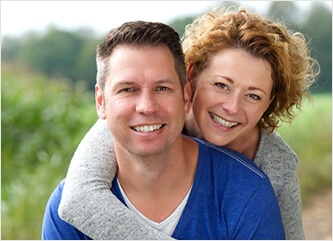 When you need restorative care for your smile, who will you turn to? At Dix Hills Family Dentistry, we offer a wide range of excellent services to help patients just like you receive essential care for a wide range of issues, from tooth decay to fractured or missing teeth. With our services and our commitment to personalized care, we're confident we can help you reclaim good oral health and well-being again.
Crowns and Bridges
Crowns and bridges are two of the most essential restorative services. Dental crowns are designed to restore the strength and structure of a severely decayed or fractured tooth. Crowns can be made from a variety of materials, but the most natural-looking is porcelain. With this in mind, we always strive to provide our patients in the Huntington Station area with high strength, all-porcelain crowns when possible. Ask about our Zirconia crowns on your next dental visit!
Dental bridges help patients who need to replace a missing tooth. On top of leaving a gap in your smile, a missing tooth can cause nearby teeth to move out of their correct position creating new spaces for food and bacteria to hide. A misaligned smile can also result in problems with TMJ dysfunction. With a custom-made dental bridge, we can help you preserve your smile's proper alignment while also filling the gap in your smile.
Learn More About Dental Bridges

Learn More About Dental Crowns
Root Canal Therapy
Root canal therapy is a special procedure for treating teeth with infection in the root or soft inner pulp layer. During your procedure, Dr. Gaur removes the tooth's infected nerve and fills it with a safe, biocompatible material before placing a protective crown. In addition to improving the tooth's strength and appearance, crowns can also protect your tooth from fracturing. Are you concerned that you might have an infected tooth? Come in for an exam and consultation!
Dentures & Partials
Do you need to replace multiple teeth or an entire row of teeth? Our dental practice is proud to offer quality care with partial dentures and full dentures. Partial dentures (also referred to simply as partials) are made to replace multiple teeth while full dentures replace a full upper or lower row of teeth. Both types come in removable and implant-supported forms. During your initial consultation, Dr. Gaur will help you understand which option is right for you.
Call Dix Hills Family Dentistry today if you need to schedule a consultation visit for any of our restorative services. We look forward to serving you.
Tooth-Colored Fillings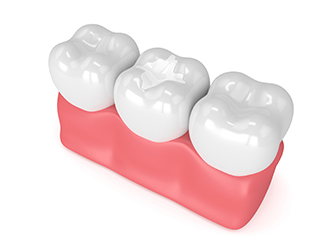 Composite resin is shaded to the color of enamel to blend in when replacing old metal fillings or treating new decay. It provides a natural-looking solution that's completely metal free. You'll benefit from a long-lasting solution to enhance the health and appearance of your pearly whites.