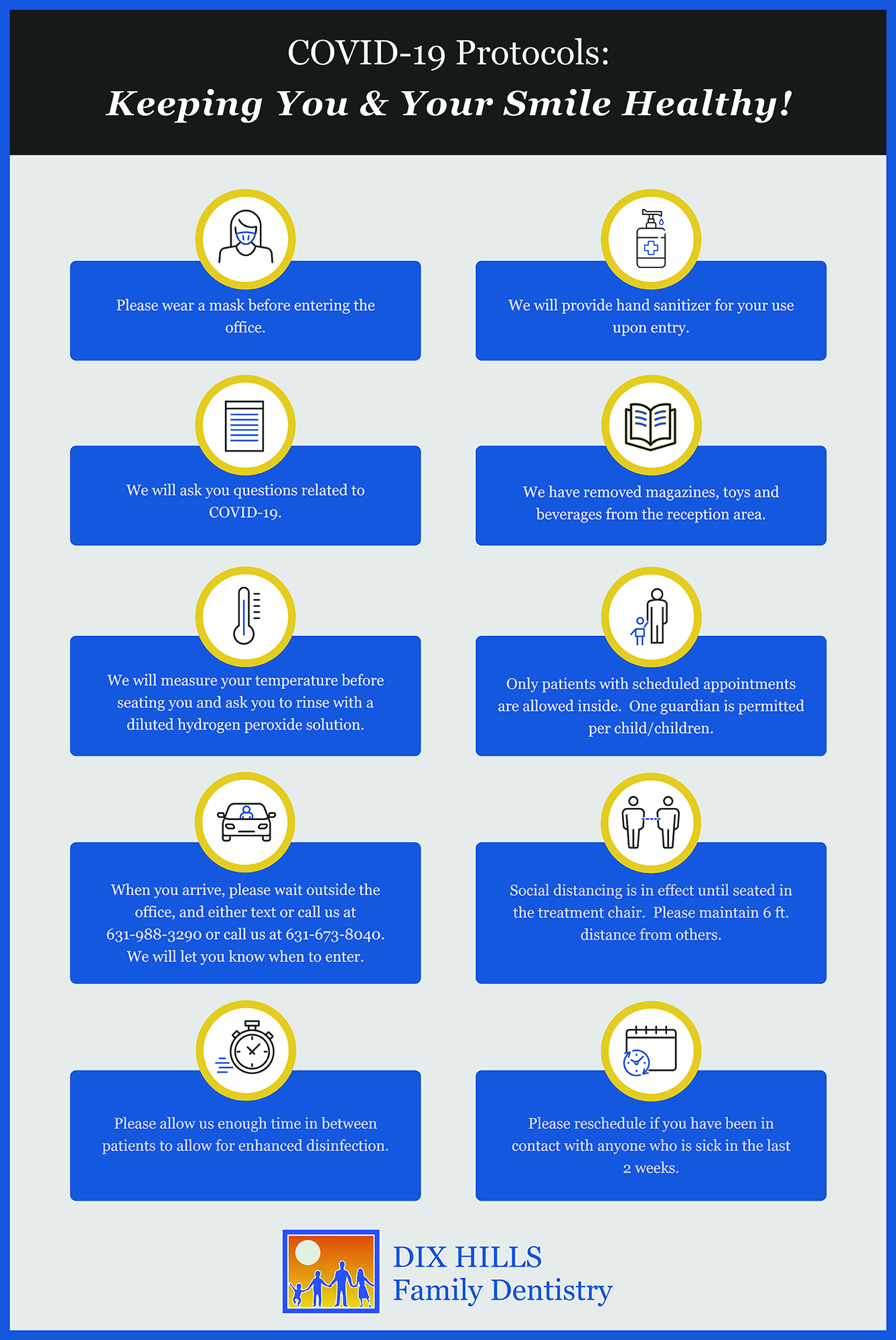 Dear Friends,
We want to first say that we hope that you and your families have been staying healthy during the COVID-19 pandemic. We know that the effects of this pandemic have taken a toll on all of us, and it has been harder for some more than others. We wish the best for you all, from the bottom of our hearts.  Governor Cuomo has authorized that all dental offices in the state of New York can begin seeing patients for elective dental care, provided COVID-19 safety protocols and social distancing rules are followed. We have set a tentative full re-opening date for Monday, June 8th, 2020. We will use the time until then to prepare to see all of you, our terrific patients! Your dental health, as well as your overall health, has always been our primary goal. And now, with the new "normal" that we find ourselves in, that has only been amplified. We would like to detail some of the steps that we are implementing to keep everyone healthy and safe.
During the time that we have been closed to elective dental procedures, we have put together a re-opening plan and a system going forward that will allow us to minimize the risk of spreading COVID-19 (and other viruses and bacteria). We will list these new protocols so that you know what to expect as you return back to our office for your elective and routine dental care. We have implemented the following based on recommendations and guidance from the following: the CDC (Centers for Disease Control and Prevention), the ADA (American Dental Association), NYSDA (New York State Dental Association), SCDS (Suffolk County Dental Society), and OSHA (Occupational Safety and Health Administration).
We ask for your understanding, as we had to cancel a tremendous amount of appointments. While we were open to address emergent dental needs, we know that a lot of you were in the middle of scheduled treatment, and many more missed their routine dental care appointments. We will look to reschedule the appointments that were first cancelled. We will, at first, have adjusted office hours, but we will do our best to accommodate and schedule you in an efficient and, most of all, safe manner.
When you arrive for your scheduled appointment, please remain in your vehicle (or outside the office), and text us at (631) 988-3290 to let us know that you are here. If you can't text us, please call us at (631)-673-8040 to let us know you've arrived. One of our team members will notify you when we are ready for you to enter the office to be seated right away.
When entering the office, we ask that you please have a mask on. Please keep in mind that this is currently NY State law. We will also make hand sanitizer available for you to use as you enter.
We will be enforcing social distancing as much as possible in our office space. Please try to maintain the 6 feet social distancing guideline until you are seated in the dental chair for evaluation and treatment. You will find that the magazines, toys, and beverages have been removed from the reception area.
You will also be asked to fill out a COVID-19 questionnaire electronically ahead of your appointment. If a response on the form indicates that you may have signs/symptoms of COVID-19, or that you have been exposed to someone who has COVID-19 (or the signs and symptoms of COVID-19), we will reschedule your appointment and kindly ask you to leave and return after the 14-day self-quarantine requirement. Other routine dental forms, such as medical history updates, will also be sent to you electronically so that they may be completed ahead of your appointment.
Only one parent/guardian is asked to accompany a child/children. We kindly request that siblings who do not have scheduled appointments are not brought into our office. 
A team member will take your temperature (via a contactless thermometer) once you enter the office. If you have a temperature of 100º or higher, we will ask you to re-schedule the appointment after 14 days (once again, this is as per the 14-day self-quarantine requirement). Once you are in the treatment room, we may ask you to rinse with hydrogen peroxide prior to addressing your dental needs.
We have always taken pride in our infection control protocol and sterilization process. Rest assured, we will continue to hold ourselves to the highest standard in the interest of everyone's health. Our staff will throughly disinfect all patient areas throughout the day. 
The highest level air filtration filters have been utilized in our office HVAC system to help minimize the spread of any viral or bacterial particles. The same standards, questions, and temperature checks that we are asking you to undertake, we will undertake ourselves each and every day. If any one of us are found to be a potential risk, that team member will be sent home and asked to follow the same protocol that we are asking of you.
We will continue to assess the COVID-19 pandemic as it progresses, and adjust our protocols as needed.
We understand that this is A LOT to take in, but we take your health extremely seriously. You place great trust in us in allowing us to treat you and your family. We take great pride in that, and it is an honor for us. We look forward to welcoming you all back to the office soon.
With Earnest Appreciation.
The entire Dix Hills Family Dentistry Team