Dix Hills Cosmetic Dentistry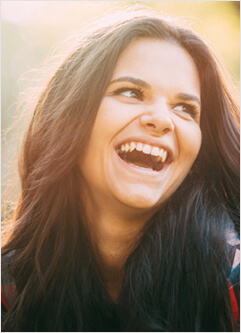 Have you ever wished for a more attractive, confident smile? You aren't alone. Cosmetic dentistry is an extremely popular field that produces dramatic results. That's why Dr. Gaur is proud to offer a range of today's most popular and effective cosmetic services. With your specific smile goals in mind, we'll create a treatment plan that helps you achieve the smile you've been dreaming of.
Our cosmetic services include:
Teeth Whitening
You don't have to look far to find products that claim they can whiten your smile. Stroll down the dental health aisle at your nearest grocery store or pharmacy and you'll see a range of toothpastes, mouthwashes, and whitening strips that assert they brighten teeth. But the truth is it takes a professional whitening system to achieve truly dramatic results.
At Dix Hills Family Dentistry, we offer three whitening options for our patients — in-office whitening, take-home whitening, and Sheer White Professional Whitening Strips. In-office whitening is designed to produce dazzling results a single appointment. Many patients leave their whitening appointment with a smile that's several shades brighter than when they arrived.
Take-home whitening, meanwhile, uses a pair of whitening trays and a supply of whitening gel to help you achieve similar results in your own home. To whiten your smile at home, you'll simply need to line the application trays with whitening gel and wear them for the prescribed amount of time each day. You may begin to see results within a day or two, but most patients see the most significant change after 7-10 days of treatment.
And for those who want a whiter smile but at an affordable cost, ask about Sheer White take home whitening strips, which is stronger than the leading over the counter whitening strips and costs less!
Tooth-Colored Fillings
With tooth-colored fillings, we're able to provide our patients with cosmetic and restorative care simultaneously. On the restorative side, fillings are used to help patients treat decay. On the cosmetic side, your fillings blend with your teeth for results that are virtually invisible.
At one time, amalgam fillings were the go-to solution for treating tooth decay on permanent teeth, but because they are made from a range of metals they have an unattractive, dark gray color. Smiling with confidence can be difficult when your teeth are littered with patches of gray. What's more, amalgam fillings are notoriously sensitive to changes in temperature and can change shape or crack over time.
With tooth-colored fillings, our patients in and around Huntington Station enjoy more discreet treatment for tooth decay. And beyond the obvious cosmetic benefit, tooth-colored fillings are also a more conservative solution. As a result, you can retain more of your natural tooth.
Porcelain Veneers
If your goal is to achieve a smile that looks whiter and straighter, let us talk to you about cosmetic smile enhancement with porcelain veneers. This excellent service produces comprehensive results in as few as two appointments. Your veneers are made of quality dental porcelain, and placed over stained, cracked, chipped, or misaligned front teeth to ensure beautiful results.
Would you like to learn more about any one of these great services? Our team would be happy to meet with you and answer your questions. We can also create a personalized treatment plan. Call us today to reserve your visit.