Dix Hills Porcelain Veneers
First impressions count. The smile that you present—or don't present—when meeting someone is often remembered long after that initial "hello." Unfortunately, some people are reluctant to smile because they know that their teeth are not attractive. If you're looking for a way to enhance your smile, then you should consider porcelain veneers. This popular cosmetic treatment allows Dr. Gaur to conceal your natural teeth and give you a brand new confident smile that will make a great impression every time!
What are Porcelain Veneers?
Porcelain veneers, which are also called dental veneers or just veneers, are micro-thin layers of dental porcelain that are directly bonded to the surface of your teeth in order to hide the flaws that detract from your smile. Each veneer is custom-crafted to fit a particular tooth, and they are approximately as thick as your fingernail.
Why Should I Consider Porcelain Veneers?
Porcelain veneers are designed to correct a number of smile imperfections. Moreover, receiving veneers from Dr. Gaur usually only requires two appointments. Veneers are the ideal cover-up for:
Permanently stained or discolored teeth
Teeth that have visible chips, cracks of small breaks
Misshapen teeth or teeth that are proportionally smaller than your other teeth
Gaps between teeth that detract from the overall appearance of your smile
A slight misalignment
Are you a Candidate for Porcelain Veneers?
Generally speaking, most people are qualified candidates for porcelain veneers. However, before beginning this cosmetic process, Dr. Gaur will want to ensure that your teeth are healthy and free of decay and that you don't currently have gum disease. In addition, people who habitually grind their teeth may not be good candidates for veneers.
What's Involved in Getting Porcelain Veneers?
After consulting with Dr. Gaur, you'll need to schedule two appointments at our dental office in Dix Hills. At the first, Dr. Gaur will gently remove a small amount of enamel from the teeth that will have veneers. This creates a receptive surface for bonding your veneers. At the conclusion of this visit, we'll secure a temporary set of veneers to protect your teeth while your permanent veneers are hand crafted in the dental lab.
At your follow-up appointment a couple of weeks later, Dr. Gaur will carefully examine each veneer, making sure the size, shape and color are exactly as he specified. Then, each veneer is cemented to its corresponding tooth to create a smile that is shapely, white and bright.
How Do I Care for Porcelain Veneers?
With proper oral hygiene and care, you can expect your porcelain veneers to last between 10 to 15 years. Brush and floss your teeth daily and schedule regular checkups with Dr. Gaur. Maintaining excellent oral health is important to the longevity of your veneers as well as the condition of your hidden teeth and your gum tissue.
Would you like to learn more about how porcelain veneers can give you a new smile? Our team would be happy to meet with you and answer your questions. Call us today to schedule your consultation.
Understanding the Cost of Veneers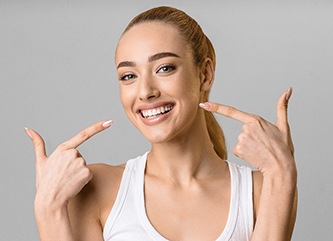 Do you have multiple dental imperfections? If so, you're probably thinking about improving your smile with veneers in Dix Hills. They're an excellent way to get the Hollywood look you've always wanted! Although veneers are a popular cosmetic solution, it's important to explore all your available options as well to determine which one is best. Understanding the cost of veneers and how they compare to other treatments can help you decide if it's right for you. To learn more, continue reading or call our office to speak directly with a member of our team!
Cost vs. Cosmetic Dentistry: What's Right for Me?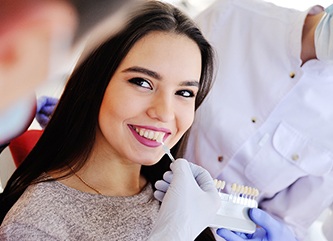 Even if you have your heart set on getting veneers in Dix Hills, it's crucial to survey all your available choices. Multiple cosmetic services can help you accomplish different things for your appearance at different price points. Here's what we offer at Dix Hills Family Dentistry:
Teeth Whitening – Are you unhappy with the color of your smile? Professional teeth whitening may be the ideal solution for you. We offer three different options for our patients: in-office, take-home, and Sheer White whitening strips. They're all equally capable of making your grin several shades brighter! While this cosmetic service is fast, convenient, and affordable, it's limited in its ability to improve your pearly whites. It'll only improve tooth color, not the shape or position of your teeth. If those are changes you want to make, you'll need to consider another option.
Porcelain Veneers ­– Even though veneers are known for being a more invasive and costly cosmetic procedure, they're capable of addressing multiple imperfections at once (i.e., discoloration, gaps, chips, cracks, misalignment). With this treatment, you can transform every aspect of your smile in just a few short appointments. Additionally, your results can last a decade or more with proper maintenance!
How to Make Veneers Affordable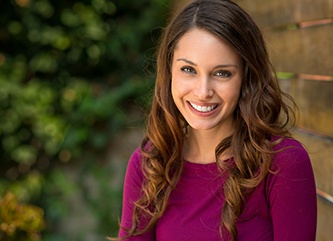 Since veneers are a form of cosmetic dentistry, they're not generally covered by dental insurance. Fortunately, we offer additional financing options to make the total cost of treatment much easier on your wallet. At Dix Hills Family Dentistry, we have an in-office dental plan that makes it possible for you to get free preventive treatment for your family and significantly reduced pricing on other services like veneers. We also work with third-party financers to provide low-to-no interest credit for patients who qualify.
Are you ready to get the movie-star smile you've always wanted? Call our office and schedule a consultation today! We'll help you determine whether or not veneers are right for you. Before moving forward with the process, our team will thoroughly explain the pricing information so you know exactly what to expect.
Veneers FAQs
If you're displeased with the appearance of your teeth, your dentist can help you achieve a picture-perfect smile with veneers. They are a minimally invasive solution to correct several issues at once, but is it the right treatment for you? We understand you have a few concerns before you're ready to commit to the procedure. We'll explain everything during your initial consultation. While you wait for your appointment, here are the answers to a few of the most common questions patients ask us to help ease your apprehensions.
How many veneers will I need?
A veneer can be bonded to a single tooth; however, your dentist in Dix Hills will likely recommend bonding them to the front 2, 4, or 8 teeth. Multiple veneers help to ensure a seamless transition to create a smile that looks natural. After performing your consultation and learning more about your goals, we'll discuss the number of veneers you'll need.
Will veneers make my teeth sensitive?
Bonding veneers to your teeth will require a small amount of enamel to be removed. As a result, it's normal to be concerned about tooth sensitivity; however, you have nothing to fear. Although your teeth might be a bit sensitive for a few days after your procedure, any discomfort will subside quickly. In some cases, veneers can actually help patients who have a history of tooth sensitivity because they provide an added layer of protection between your enamel and the foods and drinks you consume.
Will I need gum recontouring before getting veneers?
Gum recontouring is often recommended along with veneers, but it isn't always necessary. Your cosmetic dentist in Dix Hills may suggest the treatment to remove excess gum tissue to reveal more of your enamel for a larger bonding surface. Gum recontouring can also be beneficial for improving the overall aesthetics of your teeth to achieve the exact results you want. We'll explain if the additional procedure is necessary during your consultation. Although it may add another step to your treatment plan, it can help you enjoy the exact smile you want.
Are veneers covered under dental insurance?
Unfortunately, veneers aren't often covered under dental policies because they are considered elective; however, every plan differs. If applicable, we'll work on your behalf with your insurance company to file the necessary claim forms to lower the amount you need to pay. We accept several payment methods to keep your dream smile affordable, like using third-party financing with CareCredit. We'll help you find the solutions you need to enhance your teeth without breaking the bank.
Where is the best dentist near me for veneers?
If you're interested in veneers in Dix Hills, Dr. Gaur is here for you. Besides earning his dental degree from the New Jersey Dental School at the University of Medicine and Dentistry, he has completed over 350 hours of continuing education in many advanced services, including veneers. He uses the latest techniques and technologies to create beautiful smiles that last. He has the skills and qualifications you can trust.