Your Trusted Pediatric Dentist in Dix Hills, NY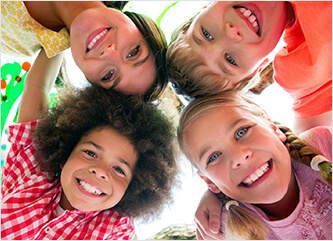 We are dedicated to offering comprehensive care for patients of all ages, and that means your children receive the personalized care they need to achieve and maintain optimal oral health for a lifetime of healthy, beautiful smiles. Unlike dental practices that only offer pediatric dental care, Dix Hills Family Dentistry offers care for your child's smile at every age and stage in development. No need to change practices once they reach their teens. Our comfortable practice and trusted dentists and staff are here for your child's smile from day one.
Your Child's Dental Checkup
The foundation of good oral health is preventative dental check-ups twice per year. During these preventative visits, we will examine your child's teeth, clean and polish their teeth, and educate them on how to maintain optimal levels of oral health between visits. Some of our other preventive services for kids include:
Dental sealants – a thin coating applied to teeth to seal out decay-causing bacteria
Fluoride treatments – topical fluoride treatments help to strengthen tooth enamel
Mouthguards – kids who participate in sports should protect their smiles with sportsguards, and we offer custom athletic mouthguards for your child's optimal comfort and protection
Specialty Services for Developing Smiles
In addition to preventive dental care for your child, our board-certified pediatric dentist, Dr. Soni, has the education and experience to provide more advanced dental care for growing and developing smiles. Dr. Soni has extensive training in working with the unique behavioral challenges presented when treating children and individuals with special needs. We can also provide nitrous oxide analgesia for those who have complex treatment needs. Some of the pediatric services we offer include:
Space maintenance appliances – If your child's baby tooth has been extracted early due to decay, we recommend placing a space maintainer to prevent teeth from shifting and to help save space for the adult tooth.
Dental trauma care –Unfortunately, accidents do happen. Our team is here to help guide you through any dental emergency you may face.
Nitrous Oxide Analgesia –Before treating your child, we may determine that nitrous oxide analgesia is necessary to protect him or her and offer maximum comfort throughout treatment. Inhaled through the nose, nitrous oxide allows your child to relax and remain calm. The effects of nitrous oxide sedation are mild and wear off quickly, so your child is free to resume regular activities directly following treatment.
Silver Diamine Fluoride –Does your young son or daughter have a cavity? Stopping the spread of tooth decay in children is critical to their oral health, but young patients do not always have the patience to sit still in the dentist's chair for a long period of time. That is where silver diamine fluoride treatment comes in. Keep reading to the learn more about his quick, painless and non-invasive treatment to combat tooth decay.
Pediatric Dentistry FAQs
If you are looking for a practice that offers dentistry for children in Dix Hills and Huntington, you've come to the right place. At Dix Hills Family Dentistry, Drs. Raj and Shubha Soni-Gaur offer outstanding services to patients of all ages. Whether your child needs a general checkup, fluoride treatment, or even a space maintainer, we can deliver compassionate and gentle care to ensure they have a safe and comfortable visit. But before you schedule your appointment, we understand you may have many questions about our pediatric services, which is why we've compiled some FAQs to help you better understand what you and your child can expect. Should you have additional questions, please don't hesitate to contact us.
Is it normal for my child to see a dentist every six months?
Yes, just like adults, children should regularly see their pediatric dentist in Dix Hills every six months. It is possible that depending on your child's oral health, they may be required to come in more frequently, but their initial visit should occur when their first baby tooth erupts or by the time they reach the age of one. This will allow your child to become more familiar with the sights, sounds, and smells of a dentist's office as well as help us to build a positive relationship with them from the very beginning.
How harmful are non-nutritive habits (i.e. thumb sucking or pacifier use)?
When your child is an infant, these comfort tactics are completely normal. Many babies turn to sucking their thumb or finger or using a pacifier in an effort to soothe themselves when upset. It can help them feel safe and comfortable. However, as your little one grows, the continued use of a pacifier or allowing them to continue sucking their thumb can have a negative impact on their oral health and jaw development. It is best to cease these non-nutritive habits by the time they are between the ages of 2 and 4. If you need help to identify ways to stop these bad habits, we will be happy to assist.
What is the best way to prevent cavities?
When helping your little one develop proper oral hygiene habits at home, you may realize that curbing the potential for cavities is much harder than you think. Because they have minimal dexterity when it comes to brushing those hard to reach areas, you should consider talking to your child's pediatric dentist in Huntington about fluoride treatments and dental sealants. Designed to protect against tooth decay, they can also strengthen tooth enamel and keep their teeth better protected between dental appointments.
Are baby teeth really all that important?
Yes! Your child's baby teeth serve as the foundation for their adult teeth that will likely begin to erupt starting around the age of six. While it is true that baby teeth will eventually just fall out, it is necessary they remain in place as long as possible. Should your child experience severe decay and have a primary tooth come out too early, it can cause nearby healthy teeth to shift out of alignment. This can create problems with their permanent teeth once they begin to erupt. This is why we offer space maintainers to prevent adjacent teeth from shifting out of alignment and causing more problems in the long run.
Find out More Today
Contact the team at Dix Hills Family Dentistry to find out more about services for kids, adults, and seniors in the Dix Hills area.