Root Canal Therapy – Dix Hills, NY
Save Your Natural Tooth & Restore Your Oral Health
Are you experiencing intense sensitivity or pain in a specific tooth? These are both common symptoms of tooth infections caused by an invasion of harmful oral bacteria in the fragile portion of your tooth. Luckily, at Dix Hills Family Dentistry, we offer root canal therapy that can ease your pain and restore the health and function of your natural tooth. A large majority of patients with treated teeth are able to enjoy their natural smile for the remainder of their life after getting a root canal!
Why Choose Dix Hills Family Dentistry For Root Canal Therapy?
High-Quality Dental Crowns
Sedation Dentistry Available
Experienced Dentists
What is Root Canal Therapy?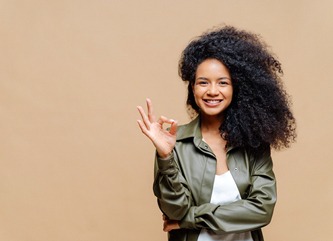 We have had the opportunity to perform countless root canals on patients to allow them to keep their natural tooth and to restore the function and appearance of their smile. Usually, we recommend this restorative procedure for patients who have had severe dental trauma or cavities that resulted in an infection. When they're left unaddressed, they cause severe oral discomfort and can even spread to other areas of your mouth, making them vital to treat sooner rather than later.
The procedure involves our experienced dentist in Dix Hills removing the infected pulp found in the inner chamber of your tooth. We'll then sanitize it and restore the structure with a protective dental crown.
Signs You May Need a Root Canal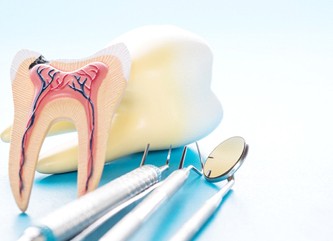 There are several symptoms and signs that could point to you needing a root canal in Dix Hills. Typically, the most common one that we see is a severe toothache caused by upset infected pulp. Some other symptoms that you can keep an eye out for include:
Extreme tooth sensitivity to hot and cold temperatures.
Pain when you bite down.
Swelling or redness on your gums near the damaged tooth.
A pimple-like bump on your gums near the damaged tooth.
As soon as you notice any of these symptoms, be sure to contact our office immediately. The longer you wait to address the issue, the more at risk you are of losing your tooth, which may cause you to need more costly and invasive procedures.
The Process of Getting Root Canal Therapy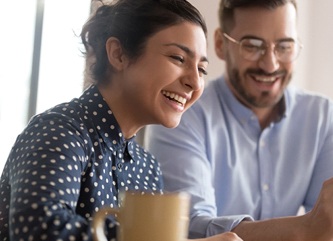 When you visit Dix Hills Family Dentistry for root canal therapy, one of our friendly dental professionals will greet you at the door. When we take you back to your treatment room, we'll ensure that you feel comfortable and well taken care of. After examining your tooth, we'll develop a custom-tailored treatment plan to improve your oral health and fix the problem.
We'll start by numbing the area around the affected tooth using local anesthesia. That way, you won't have to feel any pain throughout the process. We'll make a small access point in your tooth so we can clean out the infected pulp. Once the pulp is removed, we'll clean and sanitize the area to get rid of any lingering harmful oral bacteria. Using a custom-shaded composite resin, we will seal off your tooth and restore the shape of it. We often advise patients to top off their treated tooth with a customized dental crown to protect it from further harm and restore its strength.