March 1, 2021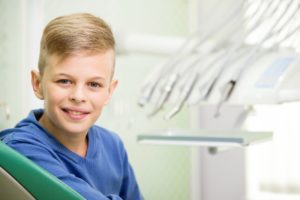 Your child's dental health is crucial for their development. Unfortunately, your child's smile doesn't come with a guidebook. Not to mention, every child develops differently, so how are you supposed to know what's normal or not? There isn't any reason to worry. Here are 5 facts from your dentist in Huntington every parent should know to ensure your child has the right foundation they need for a healthy, functional smile.
1. Tooth decay is the biggest threat to their dental health.
Although it is preventable, tooth decay is the most frequent oral health problem for children. In fact, it's the most common childhood disease and is 5 times more likely than asthma. The Centers for Disease Control and Prevention estimates at least 42% of children between the ages of 2 to 11 will have at least 1 cavity.
2. Cavities can be prevented with fluoride.
While cavities are common, they can be avoided. Your pediatric dentist in Huntington recommends using fluoride to strengthen the enamel. Fluoride is known as "nature's cavity fighter." The naturally occurring mineral is proven to prevent and reverse the early stages of tooth decay. Using fluoride toothpaste and encouraging your child to drink plenty of tap water will make their teeth cavity resistant.
3. Candy isn't the only source of cavities.
Many people attribute frequent cavity consumption to tooth decay. While sweet treats play a role, they aren't the only cause. Starchy snacks can also cause cavities, like cookies, bread, and crackers because they produce bacteria that can erode the enamel. It's best to limit the amount of sugary and starchy foods your child eats. Instead, encourage healthier alternatives, like low-fat cheese or fresh fruits and vegetables.
4. Early dental care is crucial.
The American Academy of Pediatric Dentistry recommends your child has their first dental appointment before they are one year old. Although it may seem early, it allows your child to build a trusted relationship with their dentist from a young age for stress-free appointments. Their dentist can also monitor the health and development of their smile to provide quick intervention if necessary.
5. Introduce oral hygiene from a young age.
Get your child into the habit of caring for their smile before their first tooth erupts by using a soft cloth to wipe their gums twice daily. As their baby teeth emerge, introduce brushing in the morning and at night. Beginning an oral hygiene routine early teaches the importance of oral hygiene to commit to their dental health for a lifetime.
Promote a Healthy, Beautiful Smile
You can encourage a healthy smile that lasts with the right care from a young age. If you have any questions about your child's oral health or development, don't hesitate to contact their dentist.
About Dr. Shubha Soni-Gaur
Dr. Soni earned her dental degree from Columbia University's College of Dental Medicine. She continued her training to become a board-certified pediatric dentist. If it's time for your child's first dental visit, or you have any questions, contact our office today to schedule an appointment.
Comments Off on 5 Children's Dental Health Facts Every Parent Should Know
No Comments
No comments yet.
RSS feed for comments on this post.
Sorry, the comment form is closed at this time.