October 12, 2023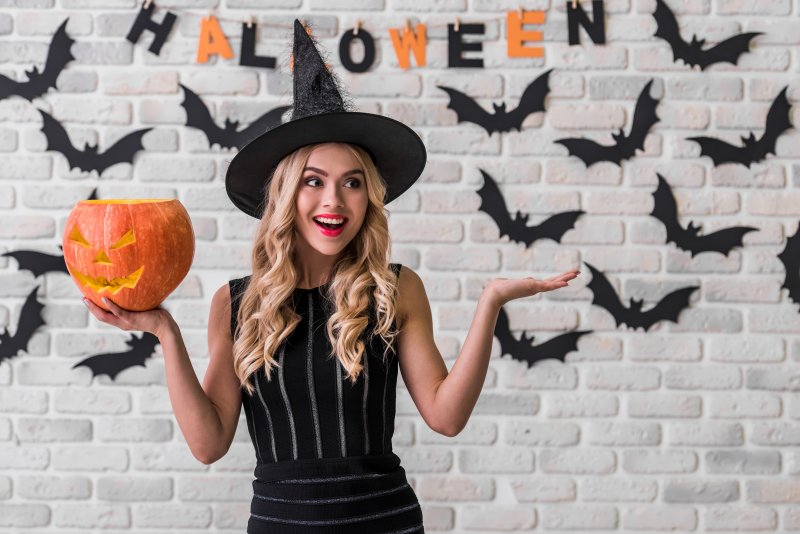 Halloween can be a fun time for children and adults. Getting to dress up in costume and eat some of your favorite candies is enough to make anyone, no matter their age, excited about the upcoming holiday. But if you want to make sure that your smile isn't the scariest thing people see all night, here are three ways you can keep your pearly whites safe from any spooky or dangerous decay, disease, or damage.
Save Candy Consumption for Mealtime
Once you are finished eating your dinner, go ahead and enjoy one or two pieces of your favorite Halloween candy. Not only does this help to satisfy your sweet tooth, but it also ensures that you do not mindlessly snack on these treats all evening.
But one of the more beneficial aspects of combining your candy consumption with mealtime is the fact that your salivary glands are already hard at work. Their ability to neutralize harmful acids helps to minimize the amount of sugar that remains on teeth, putting you at greater risk of tooth decay.
Opt to Donate Most of the Candy Haul
When your kids bring home their candy from an evening of trick-or-treating, allow them to pick out their favorite pieces and suggest that the rest be donated. Not only does this teach them that sweets can be fine in moderation, but it also gives them a chance to give to others who might appreciate this type of gesture.
For example, many servicemen and women might appreciate a care package consisting of various candies and a handwritten note thanking them for their service. There is also the option of asking your child's dentist if they offer some sort of candy buyback program.
Stick to Your Normal Oral Hygiene Routine
Just because Halloween is a holiday that finds many people staying up late to watch scary movies doesn't mean that you should neglect your oral hygiene routine.
Whether you're into horror flicks or not, making sure that you brush, floss, and rinse before bed is essential if you want to avoid potential problems in the days to come. Bad breath, cavities, and tooth stains are all possibilities if you neglect your dental habits, so make sure you and your kids stick to your routine.
Enjoy the festivities this Halloween. Wear that unique creation you spent hours sewing and indulge in a few of your favorite sweet treats. Just be sure that at the end of the night, you and your loved ones take proper care of your smiles so that they won't be a scary sight the next morning.
About the Author
Dr. Rajanesh Gaur is a trusted dentist who enjoys caring for patients of all ages. When it comes to holidays, he and his team can offer helpful recommendations to minimize sugar consumption while continuing to have fun. If you and your kids are getting ready for a night of trick-or-treating, contact us at (631) 673-8040 to find out what you can do to keep everyone's smiles in shape.
Comments Off on Decay, Disease, & Damage…Oh My! 3 Ways to Ensure Your Smile Isn't the Scariest Sight on Halloween
No Comments
No comments yet.
RSS feed for comments on this post.
Sorry, the comment form is closed at this time.