June 16, 2023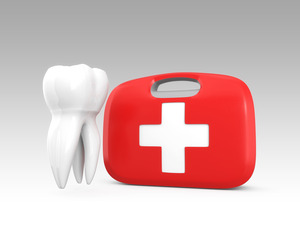 You can't predict when a dental emergency will happen or what form it will take, so you'll want to make sure you're well-prepared ahead of time. Putting together a dental emergency kit will help ensure that you'll be able to keep any urgent oral health issues under control until you can get to your dentist's office. So, what makes a good dental emergency kit? Here are 6 important items that should definitely be included.
1. Dental Mirror
If there's a problem inside your mouth, you'll naturally want to take a look at the affected area. However, there are some spots that you simply can't see very well with just a normal mirror. That's where a dental mirror comes in handy; it allows you to check for cracks and other issues that would otherwise be beyond your view. Ideally, you should see if you can find a dental mirror that has a built-in light.
2. Gloves
You won't always have the luxury of washing your hands before needing to reach inside your mouth (or someone else's mouth). When you're already dealing with a serious dental issue, the last thing you want to do is introduce germs into your oral environment. As such, every dental emergency kit should include some mouth-safe gloves.
3. Gauze
When your soft tissues are injured, you need to put a stop to any bleeding as soon as possible, which is why it's a good idea to have plenty of gauze available. By simply taking a piece of gauze and applying pressure to the area, you can keep your bleeding under control while you're waiting for your emergency appointment.
4. Small Container
If a tooth is knocked out, you need to have a safe place to store it in case it can be re-implanted in your jaw. Ideally, the container you use should be waterproof, as you will need to fill it with saline solution or milk to preserve the tooth for as long as possible.
5. Dental Wax
If you've ever worn braces, you may have used dental wax in the past to cover brackets and wires that were irritating your soft tissues. However, this material can also come in handy if you happen to break or chip a tooth; it can cover any sharp edges in order to keep the rest of the mouth safe.
6. Pain Medication
Of course, many dental emergencies involve significant oral discomfort, so your dental emergency kit should definitely include pain-relieving medication. Ibuprofen is often a good option. Bear in mind, though, that you should not use aspirin, as it can potentially make oral bleeding worse.
About the Author
Dr. Rajanesh Gaur completed his General Practice Dental Residency at Jamaica Hospital in Queens, NY. He loves how his job allows him to meet new people and help them overcome their oral health concerns. He always does his best to see his patients on the same day that they call when they have a dental emergency. To schedule a consultation with Dr. Gaur at Dix Hills Family Dentistry, visit his website or call (631) 673-8040.
Comments Off on 6 Absolutely Essential Items for Your Dental Emergency Kit
No Comments
No comments yet.
RSS feed for comments on this post.
Sorry, the comment form is closed at this time.