February 7, 2023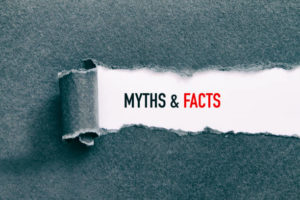 There are more options than ever to treat tooth loss, but 500,000 people every year are choosing dental implants. As the only method to recreate both the root and crown, a dental implant is the next best thing to a natural tooth. However, there are a lot of myths about the procedure. Don't let rumors stand in your way of a complete smile. Here are the facts behind 5 common dental implant myths.
Myth #1: Dental implants are expensive.
Fact: Dental implants are the most cost-effective option.
You might pay more upfront for dental implants than other treatments, but they are the most affordable overall. Replicating the root preserves your jaw to prevent common issues caused by tooth loss. You'll be less likely to need costly procedures later to lower your long-term oral health expenses. Not to mention, dental implants can last for decades.
Myth #2: I'm too old for dental implants.
Fact: You're never too old for a complete smile.
Age is just a number when it comes to dental implants. Instead, your dentist will examine your mouth and learn more about your medical history, including any medications you're taking, to determine if dental implants are right for you. Most patients with good oral and general health are candidates for the procedure.
Myth #3: It hurts to get dental implants.
Fact: You won't feel anything during your placement surgery.
You'll require oral surgery to place your implant posts in your jaw, but you won't feel anything because sedation or anesthesia will block any pain. However, once the effects of any sedatives dissipate, you can expect your mouth to be sore for a few days. You can manage it using an OTC pain reliever. A cold compress can numb the area and reduce bruising and inflammation. Your dentist will review any aftercare instructions before you go home.
Myth #4: Dental implants aren't very successful.
Fact: Dental implants deliver reliable results.
Dental implants are the most reliable solution for missing teeth, with over a 95% success rate. The biggest threat to their success is a preventable infection called peri-implantitis. Good oral hygiene will safeguard your smile from infections.
Myth #5: Dental implants need to be replaced.
Fact: Dental implants can last for a lifetime.
Dental implants are proven to last for 30 years or longer with the right care. With good oral hygiene at home and regular care from your dentist, you'll never have to budget for replacements.
Don't settle for less than the best. Your dentist will explain everything and address any concerns, so you're 100% confident you're making the right choice for your smile.
About Dr. Raj Gaur
Dr. Gaur earned his dental degree at the University of Medicine and Dentistry of New Jersey and has regularly continued his education in advanced specialties, like dental prosthetics, full mouth implant rehabilitation, and cosmetic dentistry. He is a member of many professional organizations, including the American Dental Association. Request an appointment through our website or call (631) 759-8452.
Comments Off on Fact-Busting 5 Dental Implant Myths
No Comments
No comments yet.
RSS feed for comments on this post.
Sorry, the comment form is closed at this time.