September 17, 2022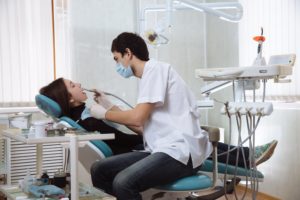 Dental crowns have been used for generations for their versatility and effectiveness. They can last for a decade or more with the right care. Unfortunately, it's not uncommon for an aesthetic flaw to occur over the years, especially with older restorations. An unsightly black line around a dental crown can appear, which can be caused by various factors. Don't worry, your dentist has the solutions you need to restore a beautiful smile.
What Causes a Black Line at the Gums?
Dentistry continually evolves with new materials and technologies. Modern crowns are made of all ceramic materials because they offer natural-looking results. They've replaced porcelain fused to metal crowns, providing a biocompatible solution. Porcelain fused to metal was a popular alternative to silver or gold restorations because they looked realistic. A porcelain shell covered the metal interior of the crown. Although this allowed the restoration to blend in with teeth, black lines often formed at the gum line, which occurred for multiple reasons, like:
Metal showing through the gum tissue
Shadow from the crown
Gum recession
No matter the reason, you can say goodbye to an unattractive dark line with a new porcelain crown.
What are All-Ceramic Crowns?
All-ceramic crowns are made of porcelain, allowing them to look and feel like a real tooth. Although they aren't made of many metals, they are equally durable for dependable strength. After examining your mouth to determine the source of the line, your dentist will create a personalized treatment plan, which will involve removing and replacing the crown. You'll enjoy many benefits, including:
Completely metal-free to eliminate allergic reactions.
Customized to match the color, size, and shape of your teeth for seamless results.
Durable to last for 10 years or more.
You will have a confident, beautiful smile you'll want to show off without worrying about an unattractive line.
How to Avoid Black Lines
Although black lines aren't as common with porcelain veneers, shadows and gum recession can occur if you aren't careful. You can prevent a margin from developing by following a few simple tips:
Use a soft-bristled toothbrush and nonabrasive toothpaste twice daily. Don't brush aggressively to avoid damaging the gum line.
Floss daily to remove plaque and bacteria that can lead to gum disease.
Visit your dentist every 6 months for a cleaning and checkup.
Contact your dentist at the first sign of gum disease, like redness, inflammation, or bleeding.
Boost Your Confidence Today
You don't have to let a dark line be the focal point of your smile any longer. A porcelain crown can turn back the clock to restore the beautiful, confident smile you desire.
About Dr. Raj Gaur
Dr. Gaur achieved his dental degree at the New Jersey Dental School of Medicine and Dentistry and pursued continuing education in advanced services, like prosthetics, dental implants, cosmetic dentistry, and clear aligners. He has the qualifications and experience you can trust to achieve your best smile. If you need to replace a crown, contact our office today to request your consultation.
Comments Off on What Causes Black Lines Around Dental Crowns?
No Comments
No comments yet.
RSS feed for comments on this post.
Sorry, the comment form is closed at this time.