July 13, 2022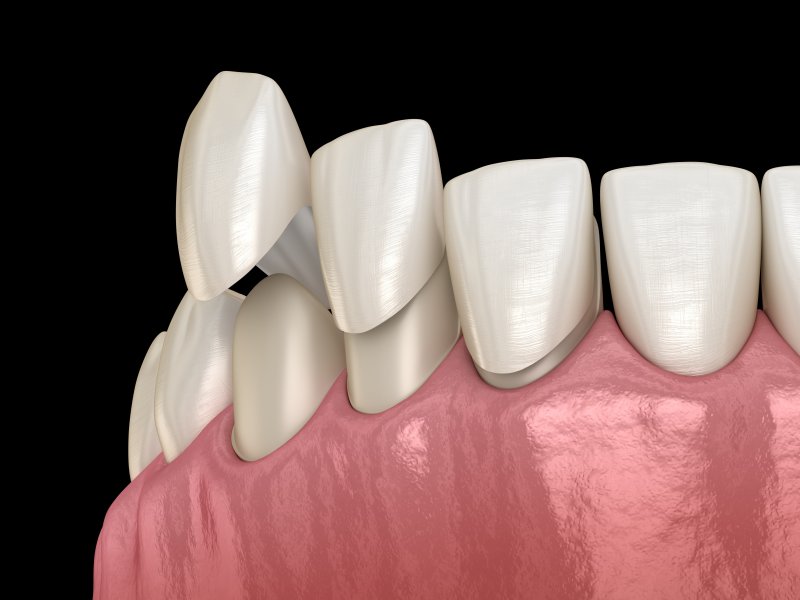 If you have porcelain veneers, you should remember they have a limited lifespan. Even well-maintained ones will only last for a couple of decades or so. As such, you'll eventually need to replace them to benefit from treatment long-term. Otherwise, you may find yourself with a declining smile that could really use some help. However, knowing the right time isn't always clear when it comes to replacing veneers. To help you through that obstacle, here are four signs to look for that show you could use replacements.
They're Chipped, Cracked, or Worn Down
As you may know, the porcelain used in veneers has strong durability. Still, it can wear out or break when mistreated.
That said, you may notice your veneers start to become rough around the edges. That's an indicator that they're wearing out, which will cause them to lose their shape over time. This natural wear-and-tear can also lead to cracks or chips.
If you can't tell whether your veneers are worn with your eyes, run your tongue over them. Feeling rough edges means they probably need replacement.
Stains Aren't Lifting from Them
Teeth can naturally stain from pigmented foods and drinks, especially items like coffee, red wine, tomatoes, and blueberries. Veneers, though, are generally stain-resistant and can withstand these pigments and acids.
One way to know when to replace veneers is if stains no longer lift from them. After all, porcelain surfaces can't be bleached or whitened. If their stains stay despite deep brushing, the only thing to do is to remove them.
They've Darkened
The dental cement used to bond veneers to teeth darkens over time. As that happens, you may be able to see the darkening through the porcelain.
Unfortunately, there isn't a way to lighten the cement up. Therefore, your only choice is to remove the veneer and the adhesive. From there, your dentist can apply a new porcelain layer.
The Underlying Tooth or Gums Decay
A veneer may be durable, but that's not always the case for the underlying tooth. When the latter starts to decay, the porcelain can separate from its attached tooth. You'll need to replace your veneer when that happens.
The same goes for your gums too. When gums decay due to poor dental hygiene, they can create a gap between veneers and the pink tissue.
When you're replacing veneers at the right time, you can keep your great smile without having unpleasant symptoms. Feel free to talk to your dentist for further help or suggestions.
About the Author
Dr. Raj Gaur is a dentist based in Dix Hills, NY, having earned his dental doctorate from the Rutgers Dental School. He has 350+ hours of continuing education courses in various dental topics. His specialties are preventive, cosmetic, and restorative dentistry, including emergency dental treatments. You can count on him for anything from dental checkups to dental veneers! Dr. Gaur currently practices at Dix Hills Family Dentistry and can be reached at his website or by phone at (631)-673-8040.
Comments Off on 4 Signs That It's Time to Replace Your Veneers
No Comments
No comments yet.
RSS feed for comments on this post.
Sorry, the comment form is closed at this time.