December 7, 2021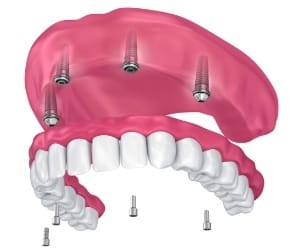 Are you ready to stop throwing money away on replacement dentures? Maybe you're tired of slipping and irritation? No matter the reasons, implant dentures will give you the next best thing to your real teeth. With over a 95% success rate, dental implants are a wise investment. However, there's going to be an adjustment period. Here are 5 tips to ensure a seamless transition from dentures to an implant-supported solution.
1. You can throw out adhesives.
You won't have to rely on adhesives to hold your teeth in place anymore. Instead, 4 to 10 dental implants will anchor your denture to your jawbone. You will never deal with the irritation or hassle of a slipping denture again. You can skip appointments to have it relined because your new denture will never lose its stability or fit.
2. You can eat your favorite foods again.
Although your dentures allowed you to eat a variety of foods, there were still some limitations. You'll never have to leave your favorite foods off your plate. You'll regain up to 70% of your natural biting force. You can even eat steak again; however, cut tough meats into small pieces to make them easier to chew.
3. No more sleeping without your teeth.
You're likely in the habit of taking your teeth out every night before going to bed. You don't have to worry about getting caught without your teeth when choosing dental implants. Some implant dentures are removable to make it easier to brush and floss, but you can sleep with them in your mouth.
4. Don't worry about soaking solutions.
A traditional denture requires nightly soaking to cleanse food particles and plaque left behind by your toothbrush. It also keeps the denture moist to prevent warping. You don't need to keep soaking solutions in your medicine cabinet because implant dentures don't require it.
5. You still need to visit your dentist regularly.
Implant dentures aren't vulnerable to tooth decay, but that doesn't mean you can stop seeing your dentist. Instead, routine dental care is crucial to preserving your investment. Your dentist will monitor your smile to detect any concerns while they are small, like gum inflammation. The quick treatment can reduce your risk of dental implant failure significantly. When regular preventive services are combined with a solid home oral hygiene routine, your dental implants can last for 30 years or longer.
Make Your Transition Today
If you're ready to ditch traditional dentures, it's time to schedule a consultation with your implant dentist. They'll create a nearly perfect replica of your real teeth to smile, laugh, and eat without a worry in the world.
About Dr. Raj Gaur
Dr. Gaur has completed extensive continuing education in many advanced services, like dental prosthetics, full mouth rehabilitation, and dental implants. He is a member of various professional organizations because of his commitment to excellence, including the American Dental Association. If you're interested in dental implants, contact our office today to schedule your consultation.
Comments Off on 5 Tips for Transitioning from Dentures to Dental Implants
No Comments
No comments yet.
RSS feed for comments on this post.
Sorry, the comment form is closed at this time.