August 28, 2021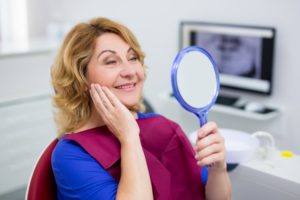 While it may seem that dental implants in Dix Hills only impact oral health, there is evidence that it can also have a significant influence on your overall wellness. With that in mind, can having a set of implants placed actually extend your life? Continue reading to get the full details from a local dentist!
A Link Between Tooth Loss and Poor Health
Studies show that by the age of 65, people who have lost 5 or more teeth are more likely to suffer from cardiovascular disease, diabetes and osteoporosis. Each condition has been found to severely decrease life expectancy. There is evidence that the number of teeth an older person retains is related to the quality of life he or she has maintained.
According to the Oral Health Foundation, people who pay closer attention to their mouth and maintain regular dental visits are more likely to live longer. In fact, one study concludes that people with a full set of teeth when they are 74 years old are more likely to reach the age of 100.
Dental Implant Placement to Boost Total Wellness
A dental implant is a titanium post that is surgically inserted into the jawbone to restore functionality and prevent further tooth loss. One of the major perks of receiving an implant is that it allows you to eat a variety of healthy foods. The more discerning you are about what you eat, the better your chances of living a longer and more productive life. As the father of Western medicine, Hippocrates, stated, "Let your food be your medicine, and your medicine be your food."
With dental implants, you're also able to practice better dental hygiene, which is quite essential to your oral and overall health. To help out, there are toothbrushes and flossers designed specifically for cleaning dental implants.
By remaining consistent in this area, you can better avoid these life-threatening health problems:
Gum disease
Heart disease
Lung infections
Type 2 diabetes
Alzheimer's disease
More Emotional Stability with Dental Implants
The condition of your emotions also plays a significant role in extending your life. Happier people tend to live longer. This can partially be attributed to the production of endorphins, dopamine, oxytocin and serotonin. These "happy hormones" help to prevent acidity and inflammation that could eventually wear down the immune system.
With an attractive smile to show off and the ability to eat the foods you want, you can expect a natural boost in your confidence. The favorable emotions associated with feeling better about yourself can very well add years to your life. To start your healthy transformation, reach out to your implant dentist in Dix Hills!
About the Author
Dr. Raj Gaur earned his dental degree from the New Jersey Dental School at the University of Medicine and Dentistry of New Jersey. A consummate learner, he has taken over 350 hours of continuing education in advanced dental prosthetics and full mouth implant rehabilitation. Dr. Gaur changes lives by placing dental implants at Dix Hills Family Dentistry, and he can be reached for more information or to schedule a visit through his website.
Comments Off on Can Having Dental Implants Placed Extend Your Life?
No Comments
No comments yet.
RSS feed for comments on this post.
Sorry, the comment form is closed at this time.