December 3, 2020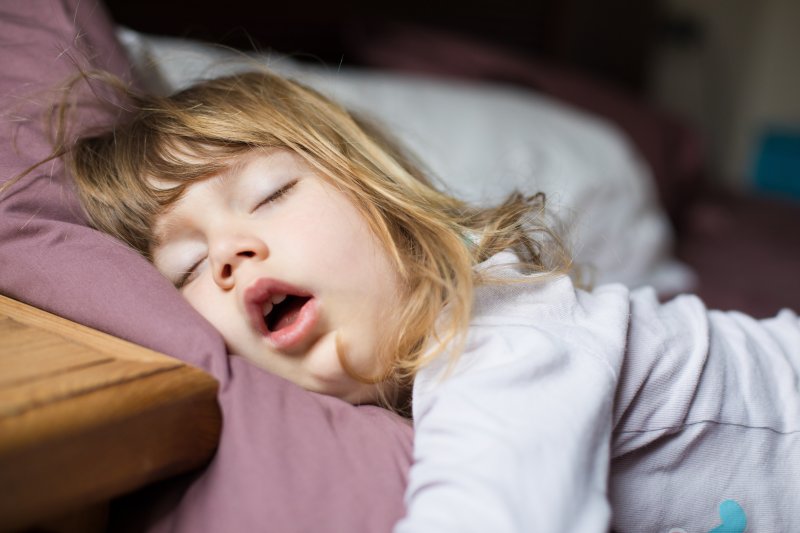 Pediatric sleep apnea is a sleep disorder where a child has brief interruptions of breathing while they are sleeping. It is more common than you may think. In fact, the American Sleep Apnea Association reports that 1% to 4% of children in the United States have sleep apnea. There are many different symptoms and signs that could point to children's sleep apnea. Read on to learn more about the condition, what causes it, and what your dentist can do to help.
What Are the Symptoms of Sleep Apnea in Children?
There are a variety of different signs and symptoms that could indicate that your child is struggling from sleep apnea and may not even know it. Here are some of the most common:
Loud snoring
Coughing and choking while asleep
Mouth breathing
Pauses in breathing
Strange sleeping positions
Sleep terrors
Bed-wetting
You may notice additional symptoms throughout the day at well. If your child has a lot of difficulty waking up in the morning, is frequently fatigued, is constantly falling asleep during the day, has learning difficulties, or is hyperactive, they could also be signs that your child could have sleep apnea. However, you should keep in mind that sometimes the only sign of this condition for younger children is troubled or disturbed sleep.
What Causes Sleep Apnea?
For adults, the cause of sleep apnea is usually obesity. However, this is not usually the case in children. The most common cause of obstructive sleep apnea is enlarged tonsils and adenoids. Obesity can still play a role in children as well. Here are a few other risk factors for children's sleep apnea:
Down syndrome
Cerebral palsy
Sickle cell disease
Low birth weight
Neuromuscular disease
Face or skull abnormalities
Family history of obstructive sleep apnea
How Can Your Child's Dentist Help?
Sleep apnea in children can be quite dangerous if it isn't addressed by a dentist or doctor. In fact, serious complications can include growth problems, heart issues, and even death. Many children with sleep apnea end up developing ADHD. The good news is that their dentist can help. Because the dental effects of sleep apnea are so common, their dentist may even be the first to notice it. Common treatment options include continuous positive airway pressure (CPAP) machines and nighttime dental devices that position the lower jaw or the tongue into a position that allows your child to breathe with ease throughout the night.
If you notice that your child is showing the signs of children's sleep apnea in Dix Hills, have them seen by their dentist. Together, you will be able to find a solution to help. Your child will have a restful sleep again in no time!
About the Author
Dr. Shubha Soni-Gaur is a board-certifies pediatric dentist serving even the smallest smiles in Dix Hills, NY. She earned her Doctor of Dental Surgery from Columbia University's College of Dental Medicine. She completed her two-year pediatric dental residency at New York Presbyterian Hospital / Columbia University. If you suspect that your child has sleep apnea, she would be happy to help. For more information or to schedule an appointment for your child, visit her website or call (631) 673-8040.
Comments Off on Does Your Child Have Sleep Apnea?
No Comments
No comments yet.
RSS feed for comments on this post.
Sorry, the comment form is closed at this time.