February 3, 2020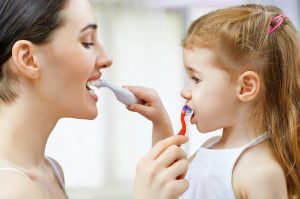 Did you know that, according to the Centers for Disease Control and Prevention (CDC), tooth decay is the most prevalent chronic disease in children? It's true! Helping your children maintain a healthy smile takes some extra work and vigilance, especially when they are still very young and may not be able to brush on their own. February is National Children's Dental Health Month (NCDHM), so there is no better time than now to learn more about oral care for kids from a children's dentist Dix Hills.
What Is National Children's Dental Health Month?
The National Children's Dental Health Month was created by the American Dental Association (ADA) to help promote the benefits of good oral health to children, their parents, teachers, caregivers and many others.
This month-long national health observance is held every February and has an updated theme each year. The NCDHM 2020 campaign theme celebrates 75 years of public water fluoridation in America with the slogan: "Fluoride in water prevents cavities! Get it from the tap!".
In case you didn't know, fluoride is a naturally-occurring mineral that can help strengthen enamel and combat tooth decay. Since 1945, communities in America have benefited from the small amount of fluoride added to many public water sources. According to the CDC, public water fluoridation helps prevent cavities and strengthen teeth for over 200 million Americans, including millions of children.
How to Celebrate Dental Health Awareness
Wondering what you should do to celebrate National Children's Dental Health Month? Treat the month of February as an opportunity to talk with your child about the importance of taking care of their teeth and gums by practicing good oral hygiene every day.
The ADA has some wonderful resources online that you can easily print out to make learning about oral health fun and engaging for your child, including coloring sheets, crosswords, maze activities and more!
Oral Care Tips for Kids
Of course, it is important for parents to know how to protect their children's oral health as well. Here are some helpful tips from a children's dentist in Dix Hills that will benefit your kid's smile:
#1: Substitute sweets for healthier snacks such as peanut butter and celery, cheese sticks or yogurt.
#2: Limit sugary drinks, including sports drinks. Encourage your child to drink more milk or water from the tap (remember, the fluoride in tap water helps strengthen teeth!).
#3: Consider getting sealants for your child's back teeth to help prevent tooth decay from forming in the deep grooves of their molars.
#4: Help your child brush, especially if they are younger than the age of eight.
#5: Visit a dentist for kids in Dix Hills twice a year for regular checkups and professional cleanings.
Teaching your youngster about the importance of maintaining good oral health will not only benefit them now but also as they grow into teenagers, adults and beyond. If you need help getting started, do not hesitate to contact a pediatric dentist near you!
About the Author
Dr. Shubha Soni-Gaur is a board-certified pediatric dentist with a passion for providing outstanding dental care to children in need. The proud Columbia University College of Dental Medicine graduate strives to make visiting the dentist a fun and educational experience for both children and their parents. For more oral care tips for kids, visit the Dix Hills Family Dentistry website or call Dr. Soni-Gaur at 631-673-8040.
No Comments »
No comments yet.
RSS feed for comments on this post.
Leave a comment