February 3, 2019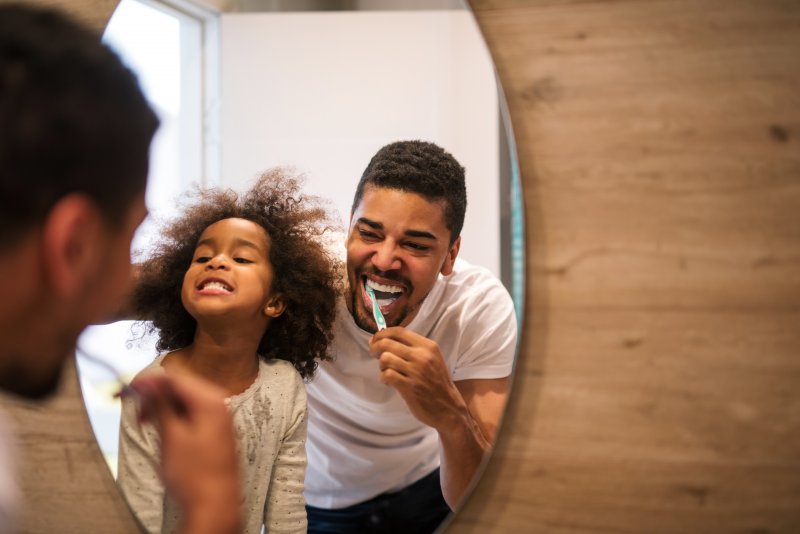 When your child looks at his or her smile in the mirror, do you really believe they're thinking about possible cavities or tooth decay? Probably not. All they see are those white things that allow them to chew on those gummy bears in their room. You know how important it is to maintain good oral habits, so why not encourage your children to feel the same way? To celebrate National Children's Dental Health Month, let your pediatric dentist in Dix Hills provide a few tips on how you can help your kids practice good oral hygiene habits.
First Stop, The Store
Before you even get started on the hygiene details at home, take your kids to the store and let them pick out their own toothbrush. Sometimes having their favorite cartoon character on their toothbrush and toothpaste can incentivize them to care for their oral health. Hey, if Bugs Bunny thinks brushing is a smart way to keep cavities and tooth decay away, maybe they will, too!
Play a Game
While this may not be Monopoly or Mario Kart, make brushing and flossing fun by turning it into a competition or game. You'd be surprised by the number of available apps that have kids race against the clock to battle germs. Just make sure whatever game is played encourages the 2×2 rule – brushing twice a day for two minutes, and don't forget to floss!
Establish a Routine
Incorporate time for brushing and flossing as part of your child's bedtime routine. Whether it is before or after story time, or immediately following their bath, establishing a routine will help them to adopt good oral hygiene habits early on.
Make it a Family Affair
Turn on some music, grab your toothbrush, and belt out the latest tunes with your kids. Join your kids when they are preparing to brush and floss their teeth. Not only does it help for them to see you practicing good oral habits, but it'll make them feel special. Spending time with your children, even when it's time for them to brush their teeth, can generate lasting memories.
Using the tips listed above will most certainly help you to see a difference in how your children feel about their oral health. Take the time to make sure your teeth aren't the only ones in the house that look and feel their best. Encourage your kids to take pride in their smile with good oral hygiene habits, and your children's dentist in Dix Hills will thank you. 
About the Author
Dr. Rajanesh Gaur has been a member of the dental industry for nearly 10 years. Earning his General Practice Dental Residency at Jamaica Hospital in Queens, New York, he has more than 350 hours of continuing education in a variety of dental procedures and solutions. He enjoys addressing oral health concerns and cosmetic needs, as well as solving health problems that can affect the entire body. To learn more about Dr. Gaur and the comprehensive services offered at Dix Hills Family Dentistry, contact us at (631) 673-8040.
No Comments »
No comments yet.
RSS feed for comments on this post.
Leave a comment