December 3, 2018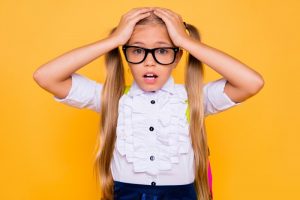 Your child has dental anxiety. Perhaps they have had a bad experience in the past. Perhaps the dental tools or sounds seem scary to them. Maybe you fear the dentist as well, and it has rubbed off on them. Whatever the reason, dental anxiety is very real. But there are ways to ease your kid's dental anxiety, especially when you're partnered with a good local pediatric dentist in Dix Hills.
Information
Knowledge is power, and knowing what's coming can reduce your child's fear. Even if you can't explain a procedure in depth, you can explain the kinds of noises they might hear, the tastes they might have, and the sensations they might experience in his mouth.
Tell your child that they can signal the pediatric dentist to stop at any time if necessary. Not only does that help them feel as if they has some control in the situation, but it can increase trust between your child and their pediatric dentist.
Positivity
If you talk negatively about going to the dentist or the procedure, your child will certainly feel negatively about it as well. Make going to the dentist a positive thing, because it is!
Although you could explain the negative outcomes of not going to the dentist, focus on the positive outcomes of the checkup or procedure. A beautiful smile. Clean teeth and gums. A healthy mouth. Happy child!
You can also offer a reward or treat for cooperating, such as stickers or a coloring book. You decide how big or small you want to go and what will motivate your child to be "brave."
Relaxation
There are tons of relaxation techniques you can use to reduce anxiety. Deep breathing works wonders for stress, even in children. You can also bring an object, like a stuffed toy or blanket, from home for them to hold, so they can feel more comfortable. On your way to the dentist, listen to calming music or their favorite song to help them feel at ease.
You can also try visualization techniques with your child, where you remember happy memories or events. To distract them, have them count the tiles on the ceiling.
Role-modeling
One study found that children were twice as likely to fear the dentist if their guardians did. If you have dental anxiety, don't let it interfere with your child's interaction with the dentist. Try to be a good role model when it is your turn to visit the dentist.
Desensitization
Ask the dentist to gradually expose your child to the tools they will use. For instance, if you child needs their mouth numbed for a procedure, the pediatric dentist could show them the needle and explain the parts and demonstrate where the needle will go in their mouth. The more times your child can interact with the tools in a stress-free environment, the more desensitized they will be.
Struggling with the needs of an anxious child can be stress-inducing, but there are plenty of ways to help them form a positive relationship with dental care that lasts for life! A pediatric dentist is the perfect source for kid-friendly tips as well, if you need more help.
About the Author
Dr. Shubha Soni-Gaur is a board-certified pediatric dentist at Dix Hills Family Dentistry with two children of her own. She is passionate about pediatric dentistry and completed a two-year pediatric dental residency at New York Presbyterian Hospital and Columbia University. For more complex procedures, Dr. Soni is able to administer nitrous oxide sedation, which offers maximum comfort, especially for anxious patients. She loves to make going to the dentist a fun experience for her patients. You can contact her by calling (631) 673-8040 or clicking here.
No Comments »
No comments yet.
RSS feed for comments on this post.
Leave a comment