October 15, 2018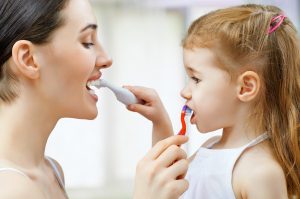 Since October is National Dental Hygiene Month, there's no better time to "brush up" on your tooth brushing habits! It really benefits everyone in the family, because when patients do well with their brushing, they don't need as much major dental work from a family dentist in Dix Hills. Great oral hygiene means fewer cavities, healthier gums and more beautiful smiles. But since there's so much conflicting information out there about the best way to brush, how can you be sure you're getting the most from your brushing routine? Keep reading to find out and feel good knowing that you're helping everyone in the family achieve healthy smiles!
What's the Best Way To Brush Your Teeth?
The following tips apply whether you use an electric or a manual toothbrush:
Use a soft-bristled brush and angle your bristles at 45-degrees towards the gumline. Brush for a minimum of 2 minutes.
Use very light, gentle pressure to avoid damaging your gums. Some electric models will alert you when you use too much pressure.
Using circular strokes, gently scrub the front, back and chewing surfaces of all the teeth, working on 1-2 teeth at a time. Since your brush is angled, you'll also be cleaning your gumline.
Don't forget about your tongue, as it harbors a lot of bacteria!
Finally, don't hesitate to ask a dentist for feedback at your next checkup, as a visual demonstration is always helpful.
As for the type of toothbrush you use, many patients ask if they should use an electric brush or a manual. While some people do great with a manual toothbrush, many can really benefit from an electric because it automatically stays on for 2 minutes and provides between 6,000 and 30,000 brush strokes a minute.
These 2 features alone make electric models very effective, especially for anyone with dexterity issues such as arthritis in their hands.
How Can You Help Your Kids Establish Great Brushing Habits?
It's not uncommon for children to struggle with brushing, so here are some tips any family can use to make it a little easier:
Play one of your child's favorite songs for 2 minutes to encourage them to spend adequate time brushing.
Use one of the many apps available that make brushing fun for kids and encourages them to be consistent.
Use a reward system like putting a sticker on each day of the calendar that your child brushes morning and night. If they have 7 stickers by the end of the week, they get a small reward.
When everyone has good brushing habits, you and your family will have better oral health, more beautiful smiles, and won't need as much dental work. And that's something to smile about!
About the Author
Dr. Shubha Soni-Gaur is a family dentist in Dix Hills who understands the power of prevention. She and her staff always educate their patients about the best way to brush because they know that good hygiene habits are crucial to prevent oral health issues. If you have any other questions, she can be contacted through her website or at (631) 673-8040.
No Comments »
No comments yet.
RSS feed for comments on this post.
Leave a comment