September 3, 2018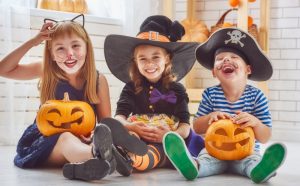 Halloween is coming up, which means kids across the country are getting excited to dress up and eat their favorite sweets. A recent study has shown that Americans buy 90 million pounds of chocolate during the week of Halloween, which could be some evidence that parents like to indulge in the festivities as well. Read on to find out some tips on how you and your loved ones can have a happy (and healthy) Halloween from a trusted family dentist in Dix Hills.
#1: Don't Eat All Your Candy at Once (Kids and Parents)
Many children (and parents alike) end up with a stomach ache and cavities from eating all their candy in one sitting. A good way to combat demolishing all your favorite candy at once is to split up your stash and put half of it in the freezer. This way, you'll limit how much sugar you're consuming, and your stash will last longer!
#2: Donate to People in Need
Another good way to limit the amount of treats you eat is to go through the candy with your children. Pick out all your favorites and then donate the rest to families in need. You can also send your candy to Operation Gratitude, an organization that will send your extra sweets overseas to the military.
#3: Watch When You and Your Children Eat Sweets
Limit you and your family's candy consumption to only after meals. After you eat, your mouth produces saliva, which helps wash away the acid and food debris left behind from your candy.
Also, make sure no one is eating candy right before bed. Going to sleep with sugar on your teeth will put you at higher risk of developing cavities.
#4: Everyone Brush Their Teeth!
Try to get everyone in your family to brush their teeth soon after eating candy. The longer sugar stays on your teeth, the more damage it can do to your tooth enamel (the protective outside of your tooth).
#5: Drink Water
When eating candy, pair it with a nice glass of water. It can help wash away excess sugar and food debris. Since you're already eating a lot of sugary treats, try not to drink sweet or dark beverages.
#6: Keep Up with Dental Checkups
Last but certainly not least, make sure your loved ones see their pediatric dentist in Dix Hills regularly to catch dental issues like cavities while they're small. Even if you and your family have a good handle on your oral healthcare, your dentist will be able to clean where you can't and make sure you don't have any serious problems.
Now that you know some tips on how to keep you and your family's teeth healthy on Halloween, you're ready to trick or treat and eat with confidence!
Meet the Dentist
Dr. Raj Gaur is dedicated to providing the best care possible for his patients. He stays up-to-date on the latest practices through over 350 hours of continuing education courses in various aspects of dentistry. He currently practices at Dix Hills Family Dentistry where he can be contacted through his website or by phone at (631) 673-8040 for any questions.
No Comments »
No comments yet.
RSS feed for comments on this post.
Leave a comment