August 15, 2018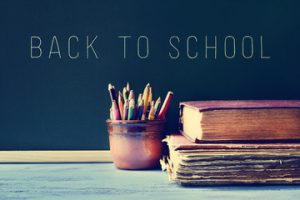 Can you believe it? Yet another summer has come and gone, although it seems like it just got started. It's a busy time for any family as they prepare to go back to school. But one thing you might have forgotten to include in your to-do list is scheduling a checkup with a family dentist in Dix Hills. Making sure your child has good oral health as school starts is a great way to avoid potential emergencies down the road when things are much busier. Keep reading to learn about 5 steps you can take now to make sure your child's smile stays healthy and happy all year!
Pack Low Sugar Lunches
Lunches don't have to be completely sugar-free, but even minimizing sugars will reduce the risk of cavities. Steer clear of sugary juice boxes and sodas and focus on milk or water instead.
Also, only include candies or other sweets as an occasional treat, although fresh fruit each day is a great addition to any lunchbox.
Maintain Good Hygiene Habits
Early mornings, late night homework, and endless after-school activities all make it difficult to adhere to a good brushing and flossing routine. And, for many parents, it can be a daily battle to motivate their children.
For younger children, you can use one of the many apps available to encourage good habits and make brushing fun. Older kids (and especially teens) can be a bit more challenging.
Still, it's worthwhile to make the effort to prevent serious dental problems later. One strategy is asking a dentist to talk to them about brushing and flossing during their checkup, as they might be more inclined to listen than if it comes from their parents alone!
Make Sure Your Child Has a Sports Mouthguard
Serious oral injuries that occur during sports are easy to prevent with a custom-made mouthguard. Studies have shown that these types of guards are thicker and more protective than store-bought varieties.
They also fit much more snugly and comfortably, which makes them more effective as well.
Stock Up On Products
Make sure you have a few new toothbrushes, extra toothpaste and floss, and some fluoride mouthwash (for children over 6). It's much easier to stock up at one time than have to replace things every few weeks during the busy school year.
Schedule a Checkup
Finally, it's a great idea to schedule a checkup before the year becomes too hectic. These visits are important so a children's dentist in Dix Hills can check for cavities, which are much easier to fix when they're small.
It's also a chance for your child to get a professional fluoride treatment that strengthens their teeth and prevents tooth decay. Of course, they'll also have their teeth cleaned and get individualized guidance on their hygiene habits.
Spending a little time on oral health before the school year starts is well worth the effort. You'll feel glad knowing your child is starting the year off on the right foot!
About the Author
Dr. Shubha Soni-Gaur is a pediatric dentist who recently became a mother for the first time. She knows that being proactive at the start of the school year is a great way to prevent dental problems down the road. If you have any questions about your child's oral health, she can be reached via her website or at (631) 673-8040.
No Comments »
No comments yet.
RSS feed for comments on this post.
Leave a comment