April 9, 2018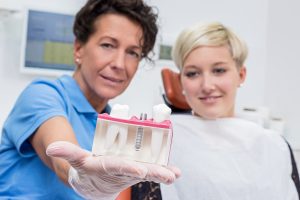 The cost of dental implant supported tooth replacement plans varies depending on the individual case, but before you get started with your plan, a dentist will walk you through all aspects of your individual treatments and help you to budget accordingly. In this post, we'll take the time to discuss some of the many variables that can impact the costs associated with your dental implant supported tooth replacement plan. To get accurate estimates of the out of pocket costs of your dental care, you'll need to schedule a consultation visit with a trusted implant dentist.

Factors that Affect the Cost
The greatest portion of the cost of dental implant tooth replacement is the price of implant posts themselves. Depending on the material used, size of implants, position in the mouth, and other factors, a single dental implant can cost between $500 and $3000 (higher in some rare cases). This is the price before the implant post is ever placed or attached to anchor a replacement tooth, and each additional implant post will add to the overall treatment cost. In most cases, patients who need more than one implant post will receive a slight discount in price on each implant after the initial implant post. Other factors that increase the total cost of your implant tooth replacement plan include:
Preparatory procedures – tooth extractions and bone and soft tissue grafts
Sedation dentistry – to ensure complete comfort during preparatory treatments and dental implant placement
Replacement teeth – dental crowns, bridges, and dentures
Making Dental Implants Affordable
We make the total cost of implant supported tooth replacement more affordable by billing for each portion of the treatment process individually rather than all at once. While dental implants are typically not covered by dental insurance, other aspects of your treatment plan will be, and our knowledgeable team will do their utmost to maximize your coverage when possible. We also work with third party financiers to provide qualified patients with low and no interest financing plans. If your benefits include flexible spending accounts (FSA) or health savings accounts (HSA), you may also be able to use these funds to offset the costs associated with your implant supported tooth replacement plan.
Meet the Dix Hills Family Dentistry Team
At Dix Hills Family Dentistry, Dr. Raj Gaur and Shubha Soni-Gaur are dedicated to helping patients fit the costs of all their necessary dentistry services into their budgets. Our knowledgeable dental care team will be happy to help you with any questions you have about dental implant tooth replacement, dental insurance, financing, and more. If you have questions or want to schedule a dental implant consultation, call our team today. We look forward to helping you fully restore your smile.
No Comments »
No comments yet.
RSS feed for comments on this post.
Leave a comment