March 6, 2018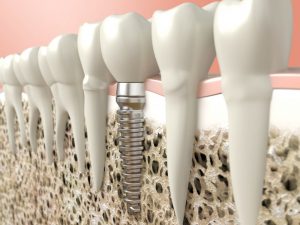 Dental implants can do wonders for the health of your smile just as much as the look. Once you have them placed you'll be able to eat the foods you always loved and flash the smile you remembered having to your friends and family. However, many people don't know much about the procedure of getting dental implants in Dix Hills, so your dentist wanted to outline the process for you.
Once you know this, you'll be far more informed prior to your consultation, a stage that is necessary when pursuing a treatment as extensive as dental implants.
Are You Eligible for Dental Implants?
Being eligible for dental implants doesn't have too many requirements. However, meeting them is important to increase the chances of successful implantation. Patients who have the following will likely be eligible for dental implants in Dix Hills:
You have healthy gums
You have generally good oral health
You have enough bone to support an implant
During your consultation, your dentist will be able to confirm your eligibility. If they determine you are, you'll be referred to an oral surgeon outside of the office who will place your implant.
What is the Surgery Like?
Surgery for dental implants is straightforward. Once you arrive, you'll be given local anesthesia before the surgery takes place. Depending on how many implants you intend on getting, it can take as little as an hour to complete. Once the surgery is finished, you'll be given painkillers to help manage any discomfort you're feeling.
When Do I Get My Permanent Crown?
Before your dentist in Dix Hills can place your permanent crown, your implant needs to undergo a process known as osteointegration. This is the process in which your biocompatible implant integrates with your existing bone. This process, along with the healing process, takes anywhere from 3 to 6 months to complete. It's very important that you keep good oral hygiene and avoid using any tobacco products during this process.
Once this process is complete, you'll return to Dr. Gaur's office to have your permanent restoration placed. Pretty soon, you'll be reaping the many benefits that dental implants have to offer.
How Do I Care for My Dental Implant?
Your new implant doesn't need to be cared for any differently than your natural teeth. However, you'll want to make sure you floss daily if you don't already. This works to remove food particles that can get around the base of your restoration and implant.
Bacteria love to stick to food and multiply, but this is easily avoidable through daily brushing, flossing, and seeing your dentist every six months for cleanings and examinations. Dr. Gaur will make sure that your implant is in good shape and healed properly as well.
Now that you know what to expect, there's no reason for you to put off your consultation any longer. Schedule it with your dentist today and begin the path to a healthier smile!
About the Author
Dr. Raj Gaur is the owner of Dix Hills Dentistry and has been in the industry for nearly 10 years. After completing his General Practice Dental Residency at Jamaica Hospital in Queens, NY, he continued his education on many different dental services. To learn more about his practice or about the procedure for dental implants, contact him at (631) 673-8040 or visit his website.
No Comments »
No comments yet.
RSS feed for comments on this post.
Leave a comment