February 6, 2018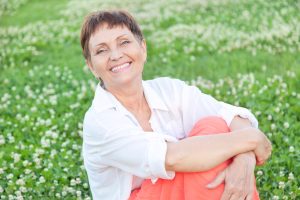 If you miss the freedom and confidence that comes with a complete set of healthy teeth, you might be thinking about getting dental implants in Dix Hills. This procedure has dozens of benefits; implants may last for a lifetime, they look fantastic, and they're strong enough to stand up to pretty much any food. But is this tooth replacement method right for you? Let's talk about some of the qualifiers that make a person an ideal candidate for dental implants.
Strong Bones
One of the best things about dental implants is that they bond with your body, preserving your jawbone. However, there needs to be enough bone there in the first place for the implants to have sturdy support. If X-rays reveal that your jaw is thin or weak, you might need a bone graft before you're able to receive implants.
Good Oral and Overall Health
Your dentist in Dix Hills wants your implants to be successful, which is why they'll examine your mouth for any signs of gum disease. If you do have an issue there, you'll need to get it taken care of before your implant surgery; that's because the bacteria that causes gum disease can lead to an infection around the implant site.
Some systemic health conditions, like diabetes or any disease that compromises the immune system, could slow down your healing after surgery. It's important to discuss any such issues with your dentist before you commit to implants.
Strong Oral Health Habits
It's important not to think that just because implants can't get cavities, you don't have to brush and floss. Keeping your mouth clean can prevent gum disease and infections that may weaken your jawbone and lead to implant failure. If you already stick to a strong oral hygiene routine, your dentist will be that much more enthusiastic about giving you to the go-ahead for implants.
It's also good to keep in mind that smoking can drastically decrease the chances that your implants will succeed. That doesn't mean smokers can't get implants, but if you use tobacco, you may want to make an extra effort to kick the habit so your new smile will be able to thrive.
Patience
The dental implant process can take anywhere from a few months to an entire year. That's because the implants will need time to bond with your body before your new artificial teeth are installed on top of them. The wait will be worth it!
An Appreciation for Long-Term Value
Some patients hesitate to get implants because the upfront cost is significant. However, since implants last so long and provide so many health benefits, many people believe that they present the best long-term value out of all the tooth replacement options. Your cosmetic dentist in Dix Hills may offer financing options to help you afford dental implants.
So, do you think you might be a candidate for implants? To find out for sure, pay a visit to your local dentist.
About Dr. Gaur
Dr. Raj Gaur is a general dentist who has completed extensive extra education in dental implants. If you would like to know if this tooth replacement method is right for you, Dr. Gaur would be happy to chat with you. Please contact us at 631-673-8040.
No Comments »
No comments yet.
RSS feed for comments on this post.
Leave a comment