January 8, 2018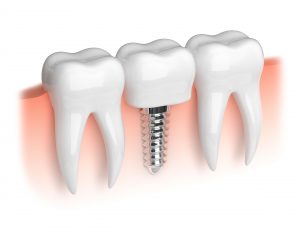 Are you tired of giving a close-mouthed smile for every picture? Wish you had your smile back and weren't forced to eat certain foods? According to your dentist, dental implants in Dix Hills can do wonders for your smile as well as your long-term oral health. Considered the best tooth-replacement option out there, dental implants can provide a level of comfort and functionality that other methods fail to meet.
In today's post, we'll be reviewing what you can expect from dental implants, their cost, and how they can change your life forever.
What are Dental Implants? Am I a Candidate?
Dental implants are titanium posts designed to integrate with your existing jawbone. They also consist of an abutment, which connects a dental crown to the implant, and the crown, which rests on top, acting as your permanent tooth. Whether you're replacing tooth that have naturally fallen out or from an injury, dental implants in Dix Hills can do it.
To determine your eligibility, your dentist will schedule a consultation with you before treatment. In most cases, dental implants are possible. However, if you suffer from conditions that dramatically affect your body's ability to heal, are a regular smoker, or you have very little bone in your jaw, it may affect your success rate and/or prevent you from receiving them. However, if your dentist in Dix Hills determines you're eligible, which is likely, you'll realize how worth it treatment truly is.
How Can Dental Implants Improve My Smile?
With dental implants, your dentist can build your smile back from the ground up. Whether you're replacing a single tooth or many teeth, the durability of dental implants can last you a lifetime of smiles and delicious meals, assuming you practice proper oral health. Tasks like eating, talking, smiling, and laughing won't be difficult, as your implants are meant to function exactly like natural teeth do.
Furthermore, because the implant has gone through a process known as osseointegration, where prosthetic and bone bond together, your cheeks will retain their shape. This helps you avoid the sunken appearance that occurs when your mouth is vacant. Implants allow blood flow to the jaw, muscle growth, and bone stimulation. Implants are also the only restorative method where this function occurs.
What's the Cost of Dental Implants?
The cost of dental implants depends on many factors, including:
The number of teeth you're replacing
The cost of extracting your failing teeth
Bone grafts and sinus lifts to accommodate implants
The cost of dental crowns or optional prosthetics
On average, dental implants alone cost between $1,000 and $3,000 each depending on where you get them from. This doesn't include crowns, bridges, or implant-supported dentures either, so discuss your financial options with your dentist before pursuing.
If you're looking for the most sustainable replacement for teeth, it doesn't get any better than dental implants. Schedule a consultation with your dentist in Dix Hills today to learn your eligibility!
About the Author
Dr. Raj Gaur earned his dental degree from Rutgers Dental School and has over 350 hours of continued education on multiple dental treatments and techniques. This includes advanced dental prosthetics, full mouth implant rehabilitation, advanced removable prosthodontics, and many others. To learn more about his practice and implant treatments, contact him at (631) 673-8040 or visit his website.
No Comments »
No comments yet.
RSS feed for comments on this post.
Leave a comment