October 27, 2017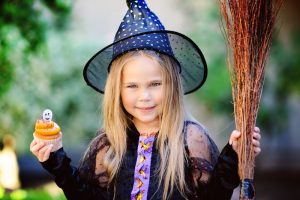 USA Today recently published some statistics regarding candy consumption on Halloween. The numbers are interesting — and also frightening for your family dentist in Dix Hills.
Here are some of the most alarming stats.
About 4% of all candy consumption in the US occurs on October 31
Almost all children will eat at least one piece of candy on Halloween
Half of adults will eat candy on Halloween compared to 24% on a regular day
Kids eat 4 times as much candy as adults on Halloween
This uptick in sugar consumption can spell trouble for teeth and gums, especially for children whose tooth enamel is still developing. Fortunately, there are some steps you can take to help your child have a fun AND healthy Halloween.
Plan In Advance
Agreeing on a game plan before you take your kids trick-or-treating will help set their expectations for healthier candy consumption after they come back home. Have a family meeting where you lay out some rules for how much they will eat, and which candy is off-limits. Sticky treats (like Bit O'Honey, caramel, and taffy) is riskier because it is likely to get lodged in the chewing surface of the teeth. Nutty, crunchy, and hard candies spell trouble for kids with braces.
Feeding your family a balanced meal before they go out for Halloween can also reduce the chances that they will overindulge as they trick or treat. Plan a full dinner for October 31 — it's also a great time to talk about your expectations for the evening.
Make Portion Sizes
Once your kiddos return home with a bucketful of candy, have them spread it out and sort the pieces into smaller individual serving sizes using plastic baggies. They'll probably be happy to look at the haul anyway! Think two to three pieces per bag. Then outline how much they can eat — one bag every day, every two days, weekly, or whatever you feel comfortable with.
Clean Out After a Week
Don't let the candy linger around too long, either. Wait a week or two to let everyone get their fill of Halloween treats — then clean out the cabinets! You can always take the leftover sweets to work, where they'll (probably) be shared by more people.
Visit the Dentist
Help make sure your child enters the holiday season with a clean and healthy smile by scheduling a visit to the dentist around October or November! A checkup and cleaning serves growing smiles well this time of year, when sugary candy threatens to cause cavities or infection. And if you're searching the web for a "dentist near me" serving Dix Hills, you've found us at Dix Hills Family Dentistry. We can't wait to help you and your children enjoy healthy smiles that last a lifetime.
About the Authors
Dr. Raj Gaur and Dr. Shubha Soni-Gaur provide high quality children's dentistry in Dix Hills. To learn more about safe candy consumption at halloween or to schedule an appointment, you are invited to contact the office at 631-673-8040.
No Comments »
No comments yet.
RSS feed for comments on this post.
Leave a comment