August 13, 2017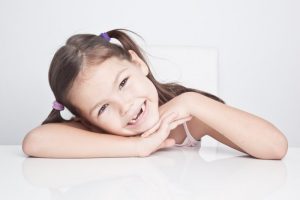 When it comes to children's teeth, many parents don't pay too much attention to how well they're taken care of. After all, they fall out right? That may be true, but some parents don't realize how important baby teeth are to lay the foundation for healthy permanent, adult teeth. That's why your children's dentist in Arlington Heights thinks it's important for parents to know these facts about their child's dental health:
Kids frequently exposed to sugary foods and drinks are at a much higher risk of developing tooth decay.
Children should visit their dentist by the time they turn one-year old.
It's critical that parents and guardians instill good oral hygiene practices as early as possible.
Let's explore some ways you can be proactive in preventing oral health issues for your children.
1.         Instill a good oral hygiene routine early on.
Brushing your teeth twice a day and flossing was probably a habit that your parents taught you. The same should be passed along to your children so that they can keep their smiles strong and bright. If your child is young, you will need to help them interested in brushing their teeth properly and probably assist them until they can handle the task on their own. Try these ideas to make brushing fun for your young ones:
Make brushing a fun family activity by brushing your teeth along with them.
Playing music for the duration of 2 minutes so they have a "teeth brushing song."
Reward them as they become older and practice consistent dental care on their own.
2.         Help your kids maintain a healthy diet.
Cavities are one of the biggest problems for kid's teeth. The good news is that they can be avoided! If you maintain a healthy diet, your chances of developing tooth decay (whether you're an adult or for your children) are much lower. Children should have a rich diet full of vitamins and nutrients and avoid processed, high-sugar foods. A healthy diet gives children the proper elements to build healthy teeth. Here are some foods to add to your grocery list:
High calcium foods like milk, cheese, and yogurt.
Bright, crunchy fruits and vegetables like apples, carrots, and celery.
Have your kids drink water rather than juice and soda that's high in sugar.
3.         Take your children to the dentist to for excellent preventive care.
Your pediatric dentist in Arlington Heights offers preventive care to keep your child's mouth strong and healthy. You can expect for your child to get a dental exam, professional cleaning, and you can also ask about dental sealants and fluoride to help ward off dental problems. Other benefits of sealants include:
Sealants protect the grooves of the teeth from food particles.
Dental sealants are easy to apply, only taking a few minutes to seal each tooth.
Sealants hold up well under the force of normal chewing and can last several years.
Sealants are affordable and less invasive to prevent cavities.
Sealants are white or clear in color, making them virtually invisible amongst your child's natural smile.
Remember, even though baby teeth fall out eventually, they keep your child's mouth strong and ready to receive their adult teeth.  Is it time to bring your child into visit their friendly family dentist?
Meet Your Children's Dentists
When choosing a practice for your little ones to visit, choose a dentist that really looks forward to servicing the people of your community—even the smallest members. Dr. Raj Gaur and Dr. Shubha Soni-Gaur are dedicated to providing the children of Arlington Heights the dental care they need to smile with confidence for years to come. Call us at (631) 759-8452.
No Comments »
No comments yet.
RSS feed for comments on this post.
Leave a comment