May 13, 2016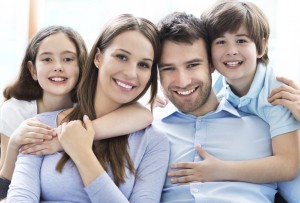 Everyone has a mom and pop shop they remember from childhood. A place where you were made to feel right at home and the customer service couldn't be beat—even if you were just a kid on a bike dropping by for candy. That kind of place doesn't only exist in your memory. At Dix Hills Family Dentistry, Drs. Gaur and their staff take pride in providing patients with outstanding dental service and customer service. Your dentist in Huntington Station is someone you can trust to take care of your family's smiles the best way they know how—with good old-fashioned attention and professionalism.
Personalized Care
Dental clinic franchises are popping up all across the country. That's not who we are at Dix Hills Family dentistry. Drs. Gaur are local residents serving their neighbors with the best kind of dentistry: treatment that is designed just for you. Whether your smile only needs the basics—a dental cleaning and exam every six months—or you need more intensive care such as dental implants to replace missing teeth or periodontal therapy to address gum disease, we will develop a treatment plan that is custom tailored for you.
Our Services
As family dentists, Drs. Gaur offer a comprehensive menu of dental services to take care of everyone in your household, young and old. Our dentistry services include:
Preventive
Pediatric
Cosmetic
Restorative
Dental Implants
Advanced/Specialty
Sleep Apnea Therapy
Emergency
Preventive Dentistry
For everyone in your family, prevention is key. With dental cleanings and exams schedule twice a year, Drs. Gaur and their staff can help you avoid several dental problems such as tooth decay and cavities, gum disease and even tooth loss. Found early, each of these is treatable.
Your dental checkup will also include a screening for oral cancer. This deadly disease claims more than 9,500 American lives each year, and some 48,000 Americans are diagnosed annually with oral or pharyngeal (throat) cancer. A screening can pinpoint abnormal tissue that may be an early warning sign of the disease.
Pediatric Dentistry
Dr. Shubha Soni-Gaur completed a two-year residency at New York Presbyterian Hospital/Columbia University. For Dr. Gaur, teaching your children how best to take of their smiles in the future is as important as ensuring the health of your children's teeth today.
Call Your Dentist in Huntington Station Today
If you would like to experience the advantages of visiting a local dentist you can trust, then schedule an appointment at Dix Hills Family Dentistry, your dentist in Huntington Station.
No Comments »
No comments yet.
RSS feed for comments on this post.
Leave a comment